White House staff secretary resigns amid abuse allegations from multiple ex-wives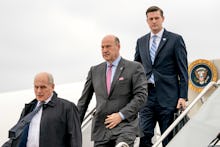 White House staff secretary Rob Porter announced his resignation Wednesday amid reports that he allegedly abused his two ex-wives. Despite his decision to resign, Porter denied the accusations and called them "outrageous" and "simply false."
The Daily Mail on Tuesday published the accounts of Colbie Holderness and Jennifer Willoughby, both of whom were previously married to Porter and both of whom claimed he abused them emotionally and physically. Holderness, Porter's first wife, said Porter punched her in the face during a 2005 trip to Florence, Italy. Holderness provided photos of herself from that time — showing her with a black eye — to both the Daily Mail and the Intercept.
"I took the photos given to the media nearly 15 years ago, and the reality behind them is nowhere close to what is being described," Porter said in a statement. "I have been transparent and truthful about these vile claims, but I will not further engage publicly with a coordinated smear campaign."
Willoughby claimed Porter was physically and emotionally abusive on multiple occasions. She described to the Mail an incident in which Porter "pulled her naked from the shower by the shoulders and yelled at her." Willoughby also said she filed a protective order against Porter in 2010 when he "violated their separation agreement" and refused to leave their home. During the incident, Porter reportedly punched through the glass on their door, cutting his hand.
According to the Mail, the FBI was aware of Porter's allegedly violent history and had declined to give him security clearance.
Despite the alleged history of abuse, Willoughby said she "definitely" wanted Porter to remain in his position with the Trump administration.
"I think his integrity and ability to do his job is impeccable," she told the Mail. "And the majority of the issues he suffers from are very personal and intimate."