Exodus at 'Newsweek' follows Monday's surprise firings of top editors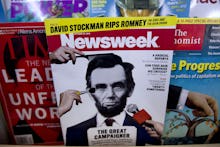 At least 14 Newsweek journalists and three journalists at the International Business Times have resigned in the days following the abrupt firing of several senior Newsweek staffers who were involved in the production of articles about the publication's parent company, Newsweek Media Group.
Among those who have resigned include Newsweek deputy breaking news editor Jason Silverstein, deputy opinion editor Rachel Brody, senior writer Matthew Cooper, international security and terrorism correspondent Jack Moore, columnist Kevin Maney, and staff writers Sam Schwarz, Leah Thomas, Linley Sanders, John Haltiwanger, Christianna Silva, Lauren Gill, Summer Meza, Kastalia Medrano, and Beatrice Dupuy.
David Sirota, the star senior editor for investigations at IBT, has also resigned, along with IBT investigative reporters Jay Cassano and Alex Kotch.
Silverstein, Brody and Schwarz all confirmed in tweets Wednesday that they had resigned from the company. Silverstein and Schwarz cited the recent events at Newsweek as the reason for their departures. Brody wrote in a farewell note to Newsweek staff that she was resigning "with a heavy heart."
Thomas confirmed to Mic Wednesday that she had resigned from her position.
On Thursday, Moore, Sanders and Haltiwanger announced that they, too, had resigned. On Friday, Maney announced that he had resigned, citing the recent firings as the reason for his decision. On Friday afternoon, Kotch, Cassano, Silva , Gill, Meza, Medrano and Dupuy announced their resignations on Twitter.
The staffers, many of whom worked on Newsweek's digital side, are the latest in a growing list of departures from the company in the days following the abrupt sacking of Newsweek editor in chief Bob Roe, executive editor Ken Li, and senior writer Celeste Katz. All of the staffers who were fired had been involved in the publication of articles about Newsweek's parent company, Newsweek Media Group, including one on a recent raid of the office by the New York district attorney's office, and another that detailed the company's financial history and its ties to Olivet University, a Christian college founded by the evangelical pastor David Jang.
Cooper on Monday announced in a fiery resignation letter that he was departing. Cooper was quickly followed out the door by Sirota, who announced Tuesday morning that he would resign from the company.
In an email to Mic Tuesday, Sirota said that it had been "a great honor to work with such terrific reporters and editors at IBT."
"However, the challenges facing the organization made it a very difficult working environment and so it became clear that it is time for me to look for a new opportunity," he added.
The resignations add to an already tumultuous several days at Newsweek, where the staff is reeling from the loss of some of their most senior editors and reporters, and weighed down by the implications that upper management can and will strike back against staff for what is deemed undesirable editorial content.
In a meeting Wednesday with Newsweek editors, Newsweek Media Group chief content officer Johnathan Davis made it plain that the articles about Newsweek Media Group that appeared on Newsweek's website were a problem.
"[Davis] kept emphasizing that the reporting our co-workers did on the company was 'damaging to the brand,'" one person with knowledge of the meeting said.
Some staffers feel strongly that Newsweek should continue reporting on the company in the wake of the firings. But in a Tuesday meeting, Newsweek editors suggested that they would no longer assign staffers to more stories about Newsweek Media Group.
According to one person in attendance, editors at the meeting said that they could not in good conscience assign stories about Newsweek Media Group to staffers now that they know that the writers and editors of the stories may be fired for doing so. The explanation was prompted by a staffer who asked whether Newsweek would continue reporting on their own company, the person said.
At that same meeting, according to two people, Newsweek acting editor Nancy Cooper, who had until Monday evening served as IBT's managing editor, told staff that they each had to decide for themselves whether they felt they could continue to work for the company.
Feb. 9, 2018, 6:39 p.m.: This story has been updated.