Mike Pence responds to Olympian who criticized his anti-LGBTQ record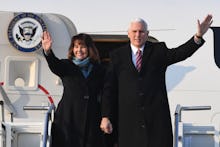 Vice President Mike Pence assured U.S. figure skater Adam Rippon on Twitter on Wednesday that he is backing him in the Winter Games, after it was reported that the gay Olympian had turned down a meeting with Pence over his anti-LGBTQ record.
"I want you to know that we are FOR YOU," Pence tweeted at Rippon. "Don't let fake news distract you. I am proud of you and ALL OF OUR GREAT athletes and my only hope for you and all of #TeamUSA is to bring home the gold. Go get 'em!"
Rippon, one of the first out gay American athlete to qualify for the Winter Olympics, has been critical of the Trump administration's selection of Pence to lead the United States delegation to South Korea.
"You mean Mike Pence, the same Mike Pence that funded gay conversion therapy?" Rippon told USA Today in January. "I'm not buying it."
Pence, a social conservative, is known for his opposition to gay and transgender rights. He has promoted conversion therapy, opposed repealing "don't ask, don't tell" and warned that same-sex marriage would lead to "societal collapse." So virulent is Pence's anti-gay beliefs, President Donald Trump once reportedly "joked" that his vice president "wants to hang" all gay people.
"If it were before my event, I would absolutely not go out of my way to meet somebody who I felt has gone out of their way to not only show that they aren't a friend of a gay person, but that they think that they're sick," Rippon told USA Today. "I wouldn't go out of my way to meet somebody like that."
Pence, just ahead of his arrival at the start of the Pyeongchang games, attempted to allay Rippon's concerns, borrowing a line from his boss and urging him not to pay any mind to the "fake news." It's unclear what the vice president is referring to.
The White House is saying that Pence never actually requested a meeting with Rippon — just that he'd "offered," according to the Washington Post. But David Baden, Rippon's agent, said that the vice president did, in fact, ask to speak with the figure skater. That request was "respectfully declined."
Baden told the paper that Rippon would be open to meeting with Pence eventually — after the Winter Olympics.