Democrats split over whether to demand protection for DACA recipients or fund government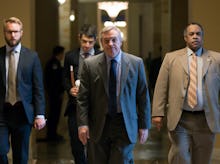 Welcome to Mic's daily read on Donald Trump's America. Want to receive this as a daily email in your inbox? Subscribe here.
Thursday's dispatch: Deal or no deal?
Senate Democrats have been promised a chance to vote on legislation to protect Deferred Action for Childhood Arrivals recipients. House Democrats, however, have received no such promise.
That simple difference sums up why House Minority Leader Nancy Pelosi (D-Calif.) spent eight hours on the House floor Wednesday in four-inch heels reading letters from DACA recipients. Pelosi demanded House Speaker Paul Ryan (R-Wis.) match the pledge Senate Majority Leader Mitch McConnell (R-Ky.) made to Democrats that the Senate will consider a DACA fix, which would protect hundreds of thousands of individuals brought to the U.S. as minors from deportation, if the government stays open.
"We feel helpless ... if our speaker will not give this dignity to this House of Representatives to take a vote on a subject of broad debate in this country to take a vote in the House," Pelosi said during her speech. "Why a gag rule in the House?"
As Pelosi held the floor for the longest speech in House history, McConnell and Senate Minority Leader Chuck Schumer (D-N.Y.) struck an unexpected tone in the Senate. They had reached a bipartisan deal to fund the government through March 23, increase spending on the military and domestic programs, fund the Children's Health Insurance Program for the next decade and also fund community health centers for two years. The deal boosts overall government spending by $300 billion, allocates $80 billion to disaster relief and rolls back the 2011 Republican legislation demanding cuts to Washington spending.
So as of Thursday morning a shutdown is looming, as government funding expires at midnight.
"I can't consider supporting this under any circumstances if there's no promise immediately about doing something on DACA," Rep. Bonnie Watson Coleman (D-N.J.) said in an interview, after she spent three hours with Pelosi on the House floor. Pelosi led House Democrats in that message to Republicans: Commit to considering a fix for DACA recipients, or we will not vote to fund the government.
That creates a split between Senate and House Democrats, who share the same views on the need to protect so-called "Dreamers" — a nickname for DACA recipients derived from the pathway to citizenship they would receive under the Dream Act — but will pursue opposed paths this week to protect them.
The Senate will vote Thursday on the bipartisan funding package, giving the House only hours to consider the bill before a shutdown.
"I know people are frustrated," Sen. Sherrod Brown (D-Ohio), who supports the funding bill, said in an interview. "They were not going to do [immigration] until we did this. They were willing to suffer the consequences of it. We do this first, we do that next."
Sen. Dick Durbin (D-Ill.) has led Democrats in immigration negotiations and participated in 10 "No. 2s" meetings — summits with the second highest-ranking Democrats and Republicans from the House and Senate — to hammer out an immigration deal. Those meetings have brought no progress on the matter, he said.
"It's not going to be practical to continue these meetings with the Senate debating these issues," Durbin said in an interview. The No. 2 Senate Democrat supports the bipartisan funding bill, but also said he supported Pelosi's eight-hour speech.
"She's trying to get an opportunity to debate this on the floor," Durbin said. "That's not an unreasonable request. I hope they can do whatever they can do to move the issue forward. It's very difficult."
Nearly 100 House Republicans may vote against the bipartisan funding bill after it clears the Senate. Fiscal conservatives and the House Freedom Caucus expressed their disgust with higher federal spending. With 238 Republicans, and 218 votes necessary to pass a bill, dozens of Democrats must break with Pelosi and help Ryan pass the legislation to avert a second government shutdown in as many weeks.
If Congress passes this deal, it will extend government funding beyond the March 5 deadline for DACA to expire. That means there will be no more "must-pass" bills for Congress between now and when the program expires. Lawmakers have already passed five short-term funding bills since October, with enough Democrats ultimately voting with Republicans each time to fund the government with no DACA fix.
Rep. Joe Kennedy (D-Mass.) spoke in Spanish to DACA recipients during the Democratic response to President Donald Trump's State of the Union, saying, "We will fight for you and we will not walk away." On Wednesday, Kennedy would not commit to voting against the funding bill — but he was leaning that way.
"I have a hard time voting for something that is a potential two-year spending deal that ends up meaning Republicans in the House can yet again get away with not dealing with a critical issue," Kennedy told Mic. "There are sufficient votes in the House of Representatives for an immigration bill today. This is not a problem. It's done. Put the bill on the floor. [Ryan] won't do it."
"This isn't a question now of who's shutting down government, it's just asking Republican leadership to govern the country. Not govern a party."
Today's question: Should Democrats take the budget deal or stand firm on demands for a DACA fix?
Please email us at trumpsamerica@mic.com with your thoughts.
Thursday in Trump's America:
Big 2018 story: Secretary of State Rex Tillerson warned that Russia is already trying to influence the 2018 elections, and there's little the U.S. can do about it. Sen. Mark Warner (D-Va.), the top Democrat investigating Russian hacking, agreed renewed Russian interference is a threat — and warned that "the president doesn't acknowledge this threat."
White House resignation: White House staff secretary Rob Porter resigned on Wednesday after multiple allegations of abuse by his ex-wives. Porter kept a low-profile, but spent nearly every day with Trump.
From CNN: "Senior White House officials were aware for months of the allegations made against Trump's staff secretary."
FBI texts: On Wednesday, Trump called the latest release of texts between FBI agents a "BOMBSHELL." Conservatives say the texts show a conspiracy to undermine Trump's presidential campaign. The reality is far less clear, with some evidence suggesting the actions of these agents may have helped Trump by leading to the reopening of the Hillary Clinton email investigation.
Stock market: Trump also attacked the stock market for falling on Wednesday, despite the economic "good news" he believe Americans are feeling.
Donations: The Republican National Committee and National Republican Senate Committee will not return hundreds of thousands of dollars in political contributions by former RNC fundraising head Steve Wynn. Wynn faced numerous allegations of sexual harassment and misconduct, forcing him to resign from his RNC role and as head of his casino business.
Angry Democrats: On the flipside of Pelosi's speech, some House Democrats believe her speech was a political stunt that will not result in actual protections for DACA recipients. "There's all kinds of ways, I assure you, that leadership exercises its influence — the least of which is a floor speech," said Rep. Luis Gutiérrez (D-Illi.) to Politico.
More on budget deal: Axios reports the McConnell/Schumer deal would add more new spending than any legislation passed during the Barack Obama administration.
Military parade: Politico discusses how the political move behind the president's push for a military parade in Washington is a smart one. "The president is overtly tying his administration to the most popular institution in our nation — perhaps the only popular institution left — the United States military. More to the point, he's daring the Democrats, and their allies in the media, to stand apart and oppose it."
Democratic memo: White House lawyers have until the end of Thursday to recommend whether the president should release a memo drafted by House Intelligence Committee Democrats that responds to a GOP memo alleging political bias at the FBI.
Today's MicBite:
President Donald Trump wants to throw a military parade in Washington — and the first out trans soldier thinks he's a hypocrite for it. Click or tap below to watch.