Justin Trudeau defends NAFTA in first stop of US tour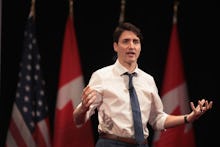 Canadian Prime Minister Justin Trudeau defended the North American Free Trade Agreement — the future of which has grown uncertain under President Donald Trump — in an appearance at the University of Chicago Wednesday evening, the first stop on his four-day visit to the United States.
"Our economies have thrived over the past 25 years under NAFTA," Trudeau said at the fifth anniversary of the University of Chicago Institute of Politics, explaining that the agreement should be reformed, not discarded.
NAFTA, which came into effect in 1994, was designed to open up trade between the U.S., Mexico and Canada, but has been criticized by some on the left and the nationalist right who say that it has hurt working people.
But a nonpartisan review by the Congressional Research Service in 2017 concluded that while the deal has not produced the "large economic gains predicted by supporters," it also "did not cause the huge job losses" feared by critics.
Trump is among those critics, describing the agreement during his presidential campaign as the "worst trade deal in history." Back in April, he reportedly drafted a plan to scrap the agreement, but after a "pleasant and productive" conversation with Trudeau and Mexican President Enrique Peña Nieto "agreed not to terminate NAFTA at this time."
But in comments Wednesday to David Axelrod, founder of the Institute of Politics and a former top adviser to Barack Obama, Trudeau expressed worry that the deal was in jeopardy.
"We are legitimately concerned about the future of NAFTA," the prime minister said in the appearance, which was recorded for Axelrod's Axe Files podcast.
Negotiators from the U.S., Mexico and Canada recently finished their sixth round of talks on NAFTA. In a meeting in Montreal late in January, officials said that they are "progressing," but that some significant disagreements remain — especially regarding a Trump administration demand that more car parts be produced in North America, the U.S. in particular. Auto companies have been wary of the proposed change to the "rule of origin," however, and fear that it could make them less competitive outside North America.
Trudeau on Wednesday said that Canada would stand strong in its negotiations with the U.S., saying that no deal would perhaps be better than a "bad deal."
"We are going to expect a good deal, a fair deal," Trudeau said.
Ahead of Trump's State of the Union address last week, 36 Senate Republicans sent the president a letter urging him not to pull out of the deal, but to instead work to modernize it.
"NAFTA supports 14 million jobs, representing thousands of jobs in each of the 50 states," Sen. Cory Gardner (R-Colo.) and his colleagues wrote. "Despite all of its benefits, however, we can do better and there are opportunities to improve the agreement. Modernizing NAFTA to increase market access, expand energy exports to maximize domestic energy production and including provisions on intellectual property and e-commerce will make this agreement even more beneficial to the United States."
Lawmakers on both sides of the aisle again urged Trump in meetings Wednesday to preserve the deal.
Trudeau was careful not to criticize Trump during his speech in Chicago and the question-and-answer session afterward Wednesday, instead calling on students to engage in civics and broadly touting the benefits of trade.
"Trade is and will remain a motor for growth," he said in response to a question from Axelrod about Trump's decision to withdraw from the Trans-Pacific Partnership — Obama's signature trade deal. "The issue is not trade/no trade, but what kind of trade and how do we make sure people are benefiting from trade."