New York Fashion Week calendar adds category for unisex and nonbinary fashion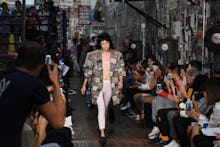 Womenswear and menswear have long been the two categories at New York Fashion Week, but starting this season, the Council of Fashion Designers of America, which organizes NYFW, has added a new category: "unisex/nonbinary."
"The CFDA is passionate about fostering inclusion and diversity in the broader fashion industry, especially during New York Fashion Week," a CFDA spokesperson wrote in an email to Mic. "We believe it is our responsibility to better represent the richness of the week and support designers across the creative spectrum, and took another step in that direction by highlighting the Official New York Fashion Week Schedule's designers who celebrate unisex/non-binary fashion. The CFDA will continue to advance inclusion and progression across our programming amid the industry's evolution."
For the first time, shows like Vaquera and Telfar, which are known for designing clothes with no one gender in mind, will be annotated as "unisex/nonbinary" shows on the official calendar.
The CFDA made it official in the New York Post on Wednesday, with Steven Kolb, the CFDA president, posting about the announcement on Thursday morning.
The change comes at a time when diversity on the runway, including gender nonconforming models and transgender models, continues to creep up, thanks to designers like Becca McCharen-Tran at Chromat and Telfar Clemens at Telfar.
This past fashion month, there were 45 castings for transgender models and four nonbinary model appearances across 47 different runways.
Feb. 8, 2018, 1:37 p.m.: This post has been updated.