The drought of transgender and nonbinary models at NYFW: Men's remains a sad trend in fashion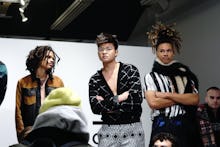 At fashion weeks around the globe, the number of out transgender and nonbinary models has surged. This Spring 2018 fashion month, with fashion weeks in Milan, London, Paris and New York, there were 45 castings for transgender models and four nonbinary model appearances, across 47 different runways. There are now star models who happen to be transgender, like Teddy Quinlivan and the great Leyna Bloom, who walk major runway shows like Louis Vuitton, Jeremy Scott, Versace and Chromat.
But in nearly all those cases of successful and pioneering trans and nonbinary models, we are talking about models who present feminine. In terms of out trans masculine or nonbinary invididuals who present masculine who are ruling the runways, they're rarer to come by. Even the more famous trans masculine models, like Laith Ashley and Benjamin Melzer, aren't walking for, say, Tom Ford. Despite the success of trans and nonbinary models at fashion weeks across the world, menswear weeks in general tend to be almost totally devoid of trans and nonbinary models.
At this New York Fashion Week: Men's, which wrapped up on Thursday, that was certainly the case, with Asos' debut U.S. presentation being one of the exceptions. At the presentation, artist Chella Man, who's genderqueer, deaf and transitioning on testosterone, modeled a neat pair of patterned pants and a loose cardigan.
"I always say be your own representation, because I didn't have any deaf, genderqueer transitioning on testosterone young artists to ever look up to, so it's an honor to be able to be that for myself," Man said in an interview backstage at the Asos presentation.
Man has been incredibly open with his fans about his identity on his own YouTube page, offering insights into whether or not he is trans, as well as insights into how his voice has progressed since being on testosterone, and his top surgery.
"I'm trying to be as transparent as possible and put all of my journey out there just so kids, younger than me, or even older than me, who want to transition have someone to look at and relate to, because that's something that I didn't have myself," Man said.
As for why trans women are more prevalent on fashion runways than trans men and masculine-presenting nonbinary individuals, Man is a bit stumped. "I honestly can't think of a reason as to why we're not," he said. "We exist so we deserve to be represented just as much as trans women do. For the fashion industry to recognize trans men as much as trans women, it just shows so much more inclusivity. It shows that we know that we exist and that we're out there and it's recognizing all the different kinds of people that are in the world and all of us deserve to be seen and have role models."
In order for more representation to actually happen, Man thinks it's going to take both the industry and these models to step up.
"Honestly it's going to take a lot from the industry itself as well as trans men," Man said. "For trans men to feel comfortable going out and doing this, it takes a lot and some people don't even have the privilege of safety, or the privilege to be able to come out and do this. So it's a matter of the people who are privileged enough to come out and represent trans people and to be courageous enough to do so. But then it's also a matter of the industry accepting us. It's a lot but we're getting there. This is a step. Being part of this is an incredible, incredible honor and I'm so excited."