With new collections from Universal Standard and Wildfang, size-inclusive workwear gets cool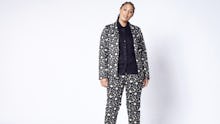 Just like the gender pay gap is real, so is the lesser-known size wage gap. In a study published in the British Medical Journal in 2016 that surveyed roughly 120,000 people in the United Kingdom, there was evidence that overweight people, especially women, are at a disadvantage when it comes to their wages.
This is just one of the many reasons why this current increased attention on creating truly good quality, size-inclusive workwear feels necessary. It's one of the many reasons why Alexandra Waldman, the co-founder of plus-size brand Universal Standard, found it so imperative to launch her own workwear collection up to a size 28.
"How you present yourself in the workplace has a lot of impact, so what we wanted to do was even the playing field for this consumer again and allow her to let her skills shine," Waldman said in an interview with Mic. "There's a size wage gap, and I think that some of that is based on the fact that these women don't have the chance to present themselves the way they could. I just wanted to produce something that would allow her to have that armor to walk into that room and feel on par with everyone else."
"There's a size wage gap, and I think that some of that is based on the fact that these women don't have the chance to present themselves the way they could."
On Tuesday, Universal Standard launched its 13-piece workwear collection, dubbed "The New Executive Class," that includes a coat, a wide-legged jumpsuit and blazers, all with a unique Universal Standard twist.
"You want pieces you can throw on and be done with it or add a jacket, and have a full look," Waldman said. "So the pieces we picked were really easy. Dresses, pants, jackets, tops. There's a cardigan, a couple of skirts."
Then on Thursday, days after Universal Standard debuted its collection, Wildfang, a size-inclusive brand focused on feminist values, debuted its "empower suit" collection, which is made up of blazers, trousers, vests and button-downs with a playful edge and distinct executive flair. Sizes go up to a 20 in pants and 2XL.
"One of the things that we found important was not making suits so serious," Taralyn Thuot, the creative director at Wildfang, said in an interview. "With all due respect to the J.Crews of the world, if you want an expected office suit, there are companies that make those. That's not what Wildfang is trying to do. We want to bring some fun and playfulness to a suit."
In addition to basic black, Wildfang debuted pieces that are blue plaid, black floral and a marble print, with plans to add more seasonal prints every three months.
"There's so many brands out there that only carry up to a size large, and that's excluding more than half of the [American] female population," Thuot said. "We want to give as many women as we can the opportunity to feel what it feels like to put on a suit and feel that empowerment. We hired a designer and fit tech who was with us every step of the way. She re-patterned all of it with real craft in mind in how things fit in the shoulder, the waist."
Wildfang even has a fit guide to ensure that women with various body types can access this collection.
Before this kind of size-inclusive workwear renaissance, Waldman says the options plus-size women had in terms of workwear mirrored the options they had in any other clothing department.
"Everything was old and frumpy," Waldman said. "You had the option of looking basically like a man, or wearing things that were not appropriate. There was not enough appropriate officewear that was powerwear."
And "powerwear" is a pretty apt descriptor for both of these collections. They're bold and modern, with an attention to fitting as many women as possible. In a political climate where pantsuits or powersuits or whatever you want to call them come with a silent power on their own, women above a size 12 are finally being thoughtfully considered.