Transgender woman Tonya Harvey fatally shot in Buffalo, New York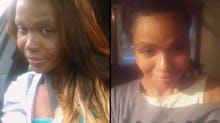 Tonya Harvey, a 35-year-old transgender woman, was fatally shot on Tuesday in Buffalo, New York, in what is at least the third homicide of a transgender person in the United States so far this year.
In January, trans activist Christa Leigh Steele-Knudslien, was killed in North Adams, Massachusetts. Later that month Viccky Gutierrez, a trans woman living in Los Angeles, was found dead in her home after a fire; her death was later ruled a homicide.
The Buffalo News reported on Thursday that Harvey's death is the first confirmed homicide of the year in Buffalo, a city of some 256,000 people. According to the local outlet, Harvey was fatally shot on a dead-end street around 5:30 p.m. on Tuesday and declared dead at the scene.
According to social media posts by friends, Harvey also went by the nickname "Kita." One friend wrote on Facebook on Wednesday, "Not only was she beautiful she was strong ... everything she put her mind to she did it with conviction." Another wrote, "R.I.P Kita aka Tonya Harvey she was murdered this week ... she was so sweet and loving."
Initial reports by Buffalo police and local media misgendered Harvey. Buffalo police spokesperson Michael J. DeGeorge told Mic on Thursday that the investigation into Harvey's death was "in the very early stages" and that "police are looking at some possible early leads."
At least 25 homicides of transgender victims were reported in 2017, though activists say the real number is likely far higher. Transgender people make up just .6% of the U.S. population, according to a 2016 estimate, but trans people, especially trans women of color, face disproportionately high rates of fatal violence.
Feb. 8, 2018, 2:06 p.m.: This story has been updated