Fundamental Reading: On 'RuPaul's Drag Race All Stars 3' episode 3, the runway overshadowed all else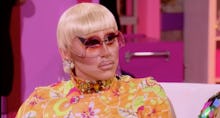 Hello, my precious little papayas. It's time, once again, to chat about RuPaul's Drag Race All Stars 3.
For episode 3, I want to set aside all of the beat-by-beat drama of The Bitchelor improv challenge and the snoozy lip-synch to a bizarrely edited version of Lorde's "Green Light." Instead, let's discuss the most important part of the episode: The unbeweaveably good "wigs on wigs on wigs" runway challenge.
In case you're not up on your Drag Race herstory, this challenge was inspired by season 5 and All Stars season 2 alum Roxxxy Andrews, who became known for her wig reveal during a lip-sync against Alyssa Edwards in the fifth season. During the middle of the song, she removed her own wig to reveal yet another wig beneath it, spawning one of Drag Race's most iconic GIFs:
As the theme for a runway challenge, wig reveals are perfect: Not only is the drama of a twist built right in, but it also spurred the queens to go above and beyond. The queens knew that a wig reveal was integrated into the DNA of the thing, so the reveal itself wouldn't come as a surprise. Instead, they had to figure out whether — and if so, how — to dole out second and third reveals in other aspects of their performance to unleash genuine shock.
Truly, Thursday's runway was one of the best in recent memory, so let's just go over each look one more time, shall we? Here's my own personal ranking of each, from weakest to strongest. But, again, it's worth emphasizing that everyone did pretty fantastic work overall.
Milk
Milk's first wig was perhaps the most helmety of the bunch, with its Cheeto-orange color and Marge Simpson-like structure. But when she removed it, she exposed something even stranger: a shoulder-length, brown-to-orange ombré wig with a platinum-blond cylinder sitting on top like a spool of yarn.
It was an odd choice — both in color and shape — that might look a little too much like an arts and crafts project. In fact, Michelle Visage remarked that she could see the plastic in the center of the cylinder. But the geometric detailing on Milk's face that mimics the geometry of the dress helped elevate it to something more worthy of the All Stars stage.
BeBe Zahara Benet
If BeBe had gone first, her look might've been more stunning, but she had the unfortunate task of following BenDeLa — with a similar hair transformation, to boot.
BeBe first emerged wearing a silky, qipao-style dress and an updo peppered with pink flowers. She then peeled the outer robe off to reveal a brighter, short, cocktail-style dress. Though, it wasn't dramatically different from the first look and instead appeared to be a bit more like a slip that would go beneath the robe.
To BeBe's credit, her wig reveal wasn't simply an outer helmet that lifted off to unveil something else. Instead, hers seemed to be an all-in-one situation: The front, flower-adorned section peeled off and fell behind her to become a long ponytail. Unlike BenDeLa's free-flowing ponytail, BeBe's was sectioned off into tight, bead-like orbs.
Chi Chi DeVayne
Despite a rocky, insecure performance earlier in the episode during The Bitchelor, Chi Chi's runway look was confident and gorgeous. Unlike her stompy, overeager talent show performance, Chi Chi walked down the runway with care and patience, letting the judges take their time to soak in her look from head to toe.
Her makeup in particular was an absolute standout and unlike anything she's shown up until this point. The sparse, graphic eyelashes mixed with the light blue eyeshadow and giant gold septum ring made her look like an ethereal, space princess who'd fit in nicely in Wakanda.
Unfortunately, her wig reveal let her down: In place of her flawless fro was a slick, long black wig. It was fine, but it didn't add anything to the overall look.
Kennedy Davenport
Kennedy's first look was poised, refined and stunning. When she tugged off her initial wig, in its place was a cropped, choppy, pastel pink bob that shifted her entire aesthetic. Not only did the pink wig make the lighter, pastel floral detailing on the dress pop, but it transformed the entire look from Diana Ross to Fifth Element.
But then, with a whirl, she pulled off that wig, too, revealing yet another shorter, blond pixie cut underneath.
Trixie Mattel
When Trixie first emerged, she was serving a Lady Bunny-inspired look mixed with a background dancer from Austin Powers. It wasn't too far off from the normal Trixie we see on Viceland every week.
But in a few quick moves, Trixie ripped off her giant wig and floor-length skirt to unveil a skimpier dress and a wig that's unlike anything Trixie usually wears: a shiny, precise, platinum-blond bowl cut. In any other context, it'd look like she was nailing the 95 Theses to a church door, but in combination with the maroon, smoky eyeshadow, she looked like Miranda Priestly's pill-popping, Swedish nemesis.
BenDeLaCreme
When BenDeLa first came out on the runway, she served classic BenDeLa — the two-cocktails-deep, East Coast, 1950s housewife we all know and love. It was a bit boring and on-brand, but knowingly so. This whole runway was based around dramatic reveals, so BenDeLa went for a strategy of underwhelming at first in the hopes that the reveal would be a blowout.
For the most part, it was. Once BenDeLa lifted her first wig off, a Princess Jasmine-like, 3-foot-long ponytail came cascading down her back. But then, her second reveal totally recontextualized the wig — beneath her teeny-tiny skirt was a longer, fringe skirt and each tier of fringe seemed intended to mimic horse hair. In other words, that long ponytail wasn't actually a Princess Jasmine look, but instead just one part of a domesticated, real-life My Little Pony fantasy.
Shangela
Most of the other queens — except for Aja — kept things pretty basic looking, forgoing fantastical aesthetics for the precision required for a good wig reveal. And then we had Shangela, who dressed up as a goddamn ear of corn.
To her credit, the look somehow worked, mostly because the absurdity was matched by craftsmanship. It was ridiculous and theatrical, but she pulled it off.
Likewise, she managed to take the joke even further: When she pulled off the frond-like leaves on top of her head, she unleashed a seaweed-esque wig, dotted with popcorn kernels.
Pair this look up with Shea Couleé's hot dog outfit from season 9, and you've got yourself a full — though admittedly phallic — meal.
Shangela's look also inspired perhaps the best one-liner in recent memory, courtesy of Michelle Visage: "GMO no you betta don't."
Aja
Despite emerging in the middle of the pack, Aja delivered the first genuinely jaw-dropping moment of the night. Her initial look was a fully bonkers, cartoon dream, with plushy, plastic pigtails the length of her whole body, punctuated by giant, buggy eyeballs.
Once she lifted those away, she revealed a shiny, creamy purple bodysuit adorned with massive bows. That was followed by yet another wig reveal, in which she ripped off a basic yellow bob to show pastel purple pigtails with bowl-cut bangs. It was the sort of look that'd somehow make both Harajuku girls and Die Antwoord fans gag.
Ultimately, Kennedy won the final lip sync and gave Milk the chop — but if All Stars 3 is anything like its predecessor, she'll be back.
Consider my wigs — all three of them — officially snatched.
RuPaul's Drag Race All Stars season 3 airs Thursdays on VH1 at 8 p.m. Eastern.