Trump's anti-Dodd-Frank regulatory nominees pass panel, head to full Senate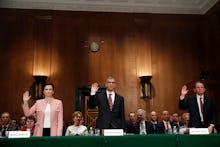 President Donald Trump's picks for three key financial regulatory boards were approved by a Senate panel Thursday and will move to the full Senate.
The mostly party-line votes could bring the president a step closer to rolling back the Dodd-Frank financial reforms signed into law by former President Barack Obama in the wake of the 2008 financial crisis.
Jelena McWilliams, executive vice president and chief legal officer of Fifth Third Bank, was approved by the Senate Banking Committee to be chair of the Federal Deposit Insurance Corporation; Marvin Goodfriend, a Carnegie Mellon economics professor, was approved as a governor on the Federal Reserve Board; and Thomas Workman, the former president of the Life Insurance Council of New York Inc., was approved to join the Financial Stability Oversight Council.
Goodfriend's confirmation before the full Senate may already be in jeopardy; Democrats are unlikely to vote for him, and one Republican — Sen. Rand Paul (R-Ky), a critic of the Fed — has already announced his opposition.
"I don't know a lot about him, although I think he was the one that wanted to insert [a] metal strip in the currency or something?" Paul told reporters on Capitol Hill Thursday, according to Politico. "Doesn't sound very exciting to me, so I'll be a no."
If the three are approved, they will likely play a major roll in Trump's planned overhaul of Dodd-Frank.
The sweeping Dodd-Frank regulations were passed in 2010 to reign in the "too big to fail" financial system that led to the 2008 global meltdown.
But Trump has been critical of the law, and he and the Republicans have already moved to undo parts of it. Just last month, the president called for banks to be allowed to lend to risky customers in a reversal of a key part of the 2010 legislation.
"We're looking now at Dodd-Frank because we have to free up so that the banks can loan money to great people, because they were restricted," Trump said in an address in January. "We're doing a real number on [Dodd-Frank]."