'Star Wars' isn't the only Hollywood franchise that snubs women directors and writers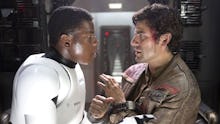 In a piece for Variety published Tuesday, TV critic Maureen Ryan analyzed the gender breakdown of writers and directors involved in Star Wars films over the franchise's 41-year history. Her conclusion is not wholly shocking: Most of them have been white men.
According to Ryan, of the 24 people who have had a creative leadership role writing or directing one or more of the space opera's 17 installments, 23 of them — a staggering 96% — were white men. (The lone exception is science fiction author Leigh Brackett, who secured a posthumous writing credit for 1980's The Empire Strikes Back.)
"The Star Wars franchise is not just healthy — it's positively robust," Ryan wrote. "It makes a mint for its corporate masters. There's no reason not to open up the roster of creative talent to the wide array of voices and visions in Hollywood. There's no reason to be stuck with mindsets that originated a long time ago in a galaxy far, far away."
But Star Wars is far from the only blockbuster series with lopsided diversity numbers; in fact, some of the biggest film franchises of the 21st century suffer the same problem.
All five of the Michael Bay-directed Transformers movies, for example, have had exclusively male writing teams, and a sea change does not seem likely for the sixth installment, due in 2019. All 24 existing James Bond films have been directed by men, going all the way back to 1962. And despite a legitimate claim to featuring one of the more diverse casts in the action genre, only men have written and directed the Fast and the Furious franchise's eight installments.
These are numbers that Michele Schreiber, a professor of film and media studies at Emory University, called "unsurprising but still unacceptable."
"It points to inherent gender biases in culture more broadly, but also specifically in Hollywood," Schreiber told Mic in an interview. "Despite the fact that many women have shown that they can helm these big blockbuster films, there's still this association of women filmmakers with small, intimate, personal stories, which are seen to be antithetical to the blockbuster ethos."
When it comes to the realm of comic-book blockbusters, the numbers are just as abysmal. Of the 18 movies that Marvel Studios has produced since its inception, only one — 2008's Punisher: War Zone, which isn't a part of the proper Marvel cinematic universe — was directed by a woman. It's worth noting that woman, Lexi Alexander, was handed the project only after the studio's first choice, a man, dropped out. And looking at the six films released within the DC Extended Universe since it kicked off with 2013's Man of Steel, the only woman involved as a director or writer was Patty Jenkins, whose work on Wonder Woman smashed records for the largest opening weekend ever for a woman director.
According to Martha Lauzen, executive director at the Center for the Study of Women in Television and Film, Jenkins and her box office success are a shining example of female potential in the director's seat.
"Last summer, Patty Jenkins made it very clear that women can direct commercially and critically successful blockbusters," Lauzen said. "It comes down to implicit bias, and the preference to hire others who reflect the demographic profile of the decision makers." 
As an example, Lauzen points to Steven Spielberg's claim that he handpicked Colin Trevorrow to direct 2015's Jurassic World after realizing that he reminded him of a young version of himself.
"Whereas male expertise is assumed, females have to prove their expertise over and over," Lauzen said.
For those hoping that change might soon be on the horizon, Lauzen has more bad news: According to the most recent data from Celluloid Ceiling (the survey of women's employment in film she oversees), women accounted for just 11% of directors and 11% of writers on the top 250 films of 2017 — the same percentage of directors they accounted for in the year 2000, and slightly under the 14 percent of writers they comprised in 2000.
"It seems unlikely that we will see a substantial shift in the employment numbers until there is a major change in attitudes regarding women's skills, abilities and ambitions," Lauzen said. "While there has been some talk recently about the need to integrate more women into lists of directors considered for the top jobs, we have yet to see meaningful movement in the numbers."