What Melania Trump wore her 55th week as first lady — during the Super Bowl, a trip to Ohio and more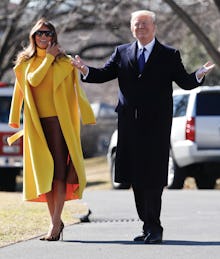 Well, we guess everything's back to normal at the White House. After weeks of not appearing anywhere near her husband, in the wake of the Stormy Daniels scandal, Melania Trump is back by her husband's side.
Reuniting at Mar-a-Lago, Trump celebrated the Super Bowl and went on a trip to Ohio with her husband this week.
This is what she wore:
Friday, Feb. 2: A red coat for National Wear Red Day
Reappearing for the first time alongside her husband in weeks, Trump walked off Air Force One in Palm Beach, Florida, in a long red coat, which may have been a nod to National Wear Red Day, which is organized every year to spread awareness of cardiovascular disease.
Underneath, she wore a blue sweater, slacks and Louboutins, natch.
Sunday, Feb. 4: A patriotic jacket for Super Bowl Sunday
For the Super Bowl party at Mar-a-Lago on Sunday, Trump appeared in an outfit that's pretty out of the ordinary for her. Donning white skinny jeans and blue heels, and completing the outfit with a satin red, white and blue bomber jacket (perhaps a nod to the Patriots?), from Amiri, an American label.
Monday, Feb. 5: A shocking yellow coat for a trip to Ohio
For a day trip to Ohio, Trump again shocked us with a bit of color. Wearing a brown leather skirt and leopard print heels, she opted for a bright mustard-colored sweater and matching coat from Ralph Lauren thrown overtop.
You can see previous recaps of what Melania Trump wore here.