Chris Christie: Nunes memo doesn't clear Trump in Russia investigation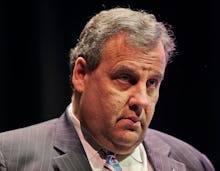 Former New Jersey Gov. Chris Christie — an ally of President Donald Trump's — said Thursday that the controversial memo released last week by Rep. Devin Nunes (R-Calif.) does not clear the president nor anyone in his administration in Robert Mueller's Russia probe.
"No," Christie said on ABC News' Powerhouse Politics podcast when asked if the memo "totally vindicates" Trump, as the president has claimed. "Nor does it clear anyone else in the administration."
Christie said the four-page document is just "another important piece of evidence that Mueller will have to consider as he's working his way through this."
The memo — which Trump declassified Friday — was released by House Republicans on Friday and supposedly detailed abuses of power by the FBI and Department of Justice.
Specifically, the report claimed that authorities improperly used the explosive dossier by ex-British spy Christopher Steele to obtain surveillance warrants on Trump campaign aide Carter Page. Trump hoped its release would help undermine the Mueller probe, which he described in a tweet over the weekend as an "American disgrace."
Christie isn't the only Republican to contradict Trump's claim that the memo vindicated him. Rep. Trey Gowdy (R-S.C.), who helped Nunes author the report, said Friday he continues to have confidence in Mueller and that the claims in the memo "do not — in any way — discredit his investigation."
The memo itself was flawed, seemingly leaving out crucial information about the Foreign Intelligence Surveillance Act applications regarding Page. It also seemed to undermine its own argument, acknowledging that the federal investigation began with comments campaign adviser George Papadopoulos made to an Australian official in 2016 — not the Steele dossier.
That infamous intelligence report — which was partially funded by the Democratic Party and the Hillary Clinton campaign — claimed the Kremlin had been "cultivating, supporting and assisting Trump for at least five years" with the aim of encouraging "splits and divisions in Western alliance." It also included the salacious allegation that the Russians had a video of prostitutes performing a "golden shower" show for Trump in a Moscow hotel room once slept in by Barack and Michelle Obama.
Trump has strongly denied the veracity of the dossier, and his Republican allies have called for Steele to be investigated by the Department of Justice.
Now, a second "dossier" — this one compiled by a Clinton ally, Cody Shearer — is being vetted by Russia investigators on Capitol Hill. The eight-page document may have independently reached similar conclusions as the Steele dossier, according to ABC News.
"I certainly think it's something worth examining," Rep. Peter King (R-N.Y.), a member of the House Intelligence Committee, told ABC News. "How far we go depends on what's there."