An insider look at Spyscape, New York's first museum dedicated to the art of spying and hacking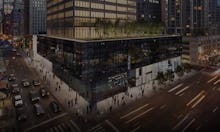 Just a few steps from Times Square in New York City, Spyscape, the city's first permanent museum dedicated to the art of spying, opens to the public on Feb. 16. The spy museum is bound to appeal to a diverse set: there's something for spy aficionados, history buffs and typically museum-adverse children and teens to enjoy here. And the content is juicy — stories of nefarious double agents, war heroes, heroines and a teenager who hacked the CIA are at once thrilling, horrifying and delightful.
Rather than allowing visitors to passively walk through galleries, Spyscape ushers them through an immersive experience. The space was designed by David Adjaye, the Ghanian-British architect behind the Museum of African American History and Culture in Washington, D.C. Each of the seven galleries includes a mix of spy artifacts and gadgets — like props from spy movie The Imitation Game and enigma machines used in World War II — and spy-themed activities where visitors can test out their own spy strengths and weaknesses. A wristband gets scanned at each station, allowing visitors to track their progress and find out what type of spy they should be by the end of the museum visit.
Some of the activities include unscrambling a code like the Allies did when battling Nazi Germany in World War II, running and dodging lasers in a dark, narrow tunnel and attempting to identify lies during lie detection tests in an interrogation booth. The proprietary profiling system and activities were developed with help from the former head of training at British Intelligence, Shelby Prichard, chief of staff at Spyscape, said in an email. Prichard said that the museum has been in development since 2014, and expert advisers include former members of online hacking collectives and former directors of intelligence agencies.
Walking through the museum feels like strolling through a deeply fascinating underbelly of history. There are exhibits on how codebreaking and spies all played an integral role in World War II, and the spies who worked quietly behind the scenes. Some, like notorious double agent and American traitor Robert Hanssen, are well known. The galleries dive deep, introducing visitors to lesser-known spies, like Virginia Hall, who helped the Allies beat Nazi Germany. Hall wasn't allowed to be in the Foreign Service because she had one artificial leg, and she joined the British Intelligence community during WWII. (Actress Daisy Ridley will play Hall in a biopic movie about Hall's life.)
Another gallery explores how spies prevented a potential World War III during the Cuban Missile Crisis. Tensions were running high between the United States and Soviet Union, and double agent Oleg Penkovsky gave critical information to the Kennedy Administration before he was ultimately captured and killed by the KGB, the intelligence agency for the Soviet Union.
The museum also explores the new, tech-savvy frontier of modern spying, with galleries that explore how surveillance relates to privacy, and how hacking can be a force for good and evil. Prichard noted that the museum collaborated with Jake Davis, a former member of the infamous hacktivist group Anonymous, who was jailed for hacking the websites of several organizations, including the CIA. Tips on protecting personal privacy here — like approaching that free WiFi in your coffee shop with caution — shows how visitors can take precautions against modern day spying.