Should CNN have put the GOP's Holocaust-denying candidate on the air?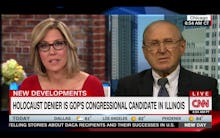 On Thursday morning, a segment on CNN's "New Day" featuring host Alisyn Camerota interviewing Republican congressional candidate Arthur Jones garnered a great deal of attention.
The interview began with Camerota immediately telling Jones that it was "shocking to hear how vocally and unapologetically racist you are" and asking the candidate point-blank: "Are you a Nazi?"
Jones, a Holocaust denier and former leader of the American Nazi Party, is the only Republican candidate in Illinois' heavily Democratic 3rd Congressional District. On Thursday, he denied any current formal ties to Nazis. Camerota was quick to counter: "You've been part of anti-Semitic groups since the 1970s. You go to neo-Nazi rallies — we have pictures of you there. You were part of the White People's Party. You dress in Nazi garb, and you celebrate Hitler's birthday."
"You're a Nazi," she concluded.
The interview quickly devolved into a shouting match between Camerota, who denounced Jones' views, and her guest, who criticized the "Jews media," denounced "the cursed two-party, Jew party, queer party system" on-air and called facts about the Holocaust "poppycock." At one point, Jones said the Holocaust was "an international extortion racket."
The segment naturally attracted a lot of attention online. Some viewers praised Camerota for how she handled the interview. But others questioned the journalistic value of the segment, which Business Insider described as a "bewildering, largely unproductive shouting match."
Andrea Pitzer, a journalist and author of One Long Night: A Global History of Concentration Camps, said in an interview that it was "hard to see the news value" in CNN's segment.
"Beyond his awfulness, it's my opinion that Jones is a fringe candidate in a race he won't win," Pitzer wrote in an email. "Letting him talk about his views, which he has already talked at length about, doesn't seem newsworthy. ... All the segment did was provide him a platform for shopping grotesque views."
Pitzer added that while she believes news organizations should be able to make their own decisions about who they bring on the air, journalists should be aware of how their sources are using them.
"In this case, [Camerota] didn't get any news out of him, while he got a larger platform for his views than he has likely ever gotten," she said. "And it's hard to imagine more reprehensible views. That doesn't seem like a good trade."
Other journalists also criticized CNN for providing Jones a platform.
"We need to reflect on whether people like this are being given a platform because it's essential for democratic debate or because it's entertaining TV," Andrew Beatty, White House correspondent for Agence France-Presse, tweeted.
"If you think you're not helping this guy by giving him airtime, you're deluding yourself," Washington Post reporter Christopher Ingraham tweeted.
As the Washington Post's Callum Borchers noted Thursday, Republicans have also criticized media outlets for paying attention to Jones. But no other Republican candidates stepped forward to run in the heavily Democratic district — a major factor that has led to Jones running uncontested in the primary.
CNN isn't the only news outlet to have given Jones press attention. He was on the front page of the Chicago Sun-Times on Monday and has been written about in places like the New York Times and NPR even before the CNN appearance. Mic also covered Jones' entrance into the closely watched race for the House seat in Illinois' 3rd District.
Pitzer said she believes journalists should always be prepared to try to get something valuable out of a guest, and that a segment letting Jones air his views only to be shouted over "doesn't seem like the way to go."
"An argument can be made about providing someone a platform in order to expose their ugliness to the light of day, but live television is a medium of spectacle," she said. "There are a lot of risks of losing control of this kind of segment. And if you do, you might just end up serving someone else's ends without having anything to show for it."
A spokesperson for CNN's "New Day" did not respond to requests for comment.