White House backpedals on Porter support: "We all could've done better"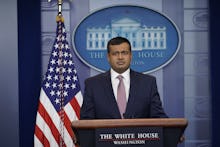 The White House sought to quell a storm of criticism on Thursday following the resignation of White House staff secretary Rob Porter — and chief of staff John Kelly's defense of the alleged domestic abuser.
"We all could have done better," deputy press secretary Raj Shah said in a press briefing Thursday. "We are very concerned."
Porter, who has served in Trump's White House since January 2017, allegedly physically and emotionally abused his two ex-wives. The FBI was aware of the allegations against him and did not grant him security clearance. Colbie Holderness, Porter's first wife, provided the Intercept Wednesday with photos showing her with a black eye she says Porter gave her when he punched her in the face during a 2005 trip to Italy.
Though he resigned Wednesday, Porter has continued to deny the allegations.
The White House has come under fire both for its response to the allegations and for seemingly allowing Porter to rise to power in the administration, despite reportedly having been aware of the accusations for months.
Sarah Huckabee Sanders, the White House press secretary, said on Wednesday that Porter "has been effective in his role as staff secretary and the president and chief of staff have had full confidence and trust in his abilities and his performance."
Kelly called Porter "a man of true integrity and honor" and reportedly attempted to keep him from resigning.
But according to Shah, who seemed flustered by the wave of questions over the Porter scandal Thursday, said that the reports "were not reflective of the individual we've come to know."
Shah said that while the allegations are "serious and troubling," the administration had been allowing a background check process to play out and that Kelly had not been "fully aware" of the allegations against Porter until Wednesday.
He declined to say what he meant by "fully aware," though he seemed to suggest that the disturbing images provided Holderness may have made a difference.
When asked if the administration believed women who did not have photographs of their abuse, Shah said, "I don't think any standard applies."
"We were relying on the information we had," Shah said. "You've got to take allegations seriously. You've got to take denials seriously."
President Donald Trump was not aware of the allegations until this week, according to Shah.
"He, like many of us, did not see that in Rob Porter," Shah said. "He was surprised by it, he was disheartened by it, he was saddened by it."
He added that Trump was not aware Porter did not have full security clearance. He also said that the president remained confident in Kelly and Hope Hicks, the communications director who has come under fire for the White House response to the Porter scandal.
Hicks, who is rumored to be dating Porter, recused herself from "some matters" related to the scandal, according to Shah.
An acting staff secretary will be named soon, he said.