Spring travel deals: These are the cheapest places to travel in March, according to Expedia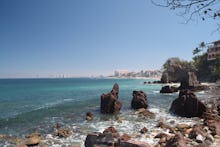 They say that March comes in like a lion and goes out like a lamb, but they rarely tell you that by the time the third month of the year comes around, you're going to feel desperate for an escape from your daily routine.
March weather is bleak, unpredictable and, anecdotally speaking, rarely features cute lambs, so do yourself a favor and plan a trip during the month. There's a reason why March is the preferred time for spring break — even when you're no longer in school.
If you're hoping to snag a deal, consider some of the international destinations listed below. Expedia analyzed 2017 air bookings departing from airports throughout the United States from March 10 to March 31 to identify the cheapest destinations based on average airfare.
The lists below reveal flights to popular spring break destinations that tend to fall under $600, $500 and $400. The destinations are listed from most expensive to least. Many are in the Caribbean — if you're wondering if it's safe to travel there after the fall's hurricane damage, take a look at our island-by-island guide.
International destinations under $600
9. Reykjavik, Iceland
8. Granada, Nicaragua
7. Bogotá, Colombia
6. Guatemala City, Guatemala
5. San José, Costa Rica
4. Medellín, Colombia
3. Montego Bay, Jamaica
2. Vancouver, Canada
1. Port-au-Prince, Haiti
International destinations under $500
11. San José del Cabo, Mexico
10. Cancún, Mexico
9. Puerto Vallarta, Mexico
8. León, Spain
7. Cartagena, Colombia
6. Oranjestad, Aruba
5. Nassau, Bahamas
4. Santo Domingo, Dominican Republic
3. Port of Spain, Trinidad and Tobago
2. Kingston, Jamaica
1. San Juan, Puerto Rico
International destinations under $400
3. Toronto, Canada
2. Mexico City, Mexico
1. Guadalajara, Mexico