Trump signs budget deal to reopen government after overnight shutdown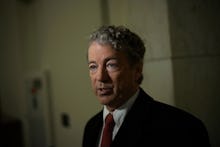 President Donald Trump signed a budget deal Friday to reopen the federal government — hours after Sen. Rand Paul (R-Ky.) held up a Capitol Hill vote and caused a brief shutdown.
The government closed for the second time in less than a month at midnight when Paul railed against the budget deficits that the deal would cause, preventing a vote on the matter and angering his colleagues.
"It's just further example of the dysfunction of this place," said Sen. Ron Johnson (R-Wis.), according to the New York Times. "It's ridiculous, isn't it?"
But around 1:30 a.m. Friday, the Senate passed the two-year spending bill 71-28. The House passed it hours later in a 240-186 vote.
The bipartisan budget will include big increases in military spending, but will also allot about $90 billion in disaster relief for storm-damaged Puerto Rico, Texas and Florida. It also does not include some of the massive cuts Trump has proposed to environmental and other domestic programs.
It will add $165 billion to the defense budget over the next two years as well as $131 billion in domestic spending.
The budget invests $10 billion in infrastructure and $3 billion to combat the opioid epidemic — both of which Trump has cited as priorities for this year.
Notably, the bill does not include anything about immigration, which lawmakers on Capitol Hill have been warring over for weeks.
"I know there is a real commitment to solving the DACA challenge in both political parties," House Speaker Paul Ryan said Thursday. "We will bring a solution to the floor, one that the president will sign. We must pass this budget agreement first, though, so that we can get on to that."
The bill will also raise the debt ceiling.
Paul, whose objection to what he described as fiscal irresponsibility in the bill, said early Friday that the "hypocrisy" of his fellow Republicans was on display in their "unholy alliance and spending free-for-all with Democrats at the expense of the American people and our party's supposed principles."
"Make no mistake," Paul tweeted. "I will always stand up for fiscal responsibility, regardless of which party is in power, and I will continue to call the Republican Party home to the ideas that led Americans to trusting us with government in the first place."