As Winter Games begin, Congress takes aim at US Olympic Committee over Larry Nassar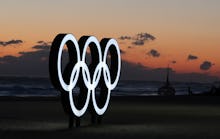 The Winter Olympics kicked off Friday in Pyeongchang, South Korea — but a sport associated with the summer games is currently demanding attention from Congress.
In response to the sexual assault conviction of USA Gymnastics doctor Larry Nassar, the U.S. House of Representatives announced Thursday that it is launching an investigation into USA Gymnastics, the U.S. Olympic Committee and other organizations involved with Nassar's sexual abuse.
The U.S. House Committee on Oversight and Government Reform said it has sent letters requesting training documents and information on medical consent and how complaints of abuse are handled, according to Reuters.
"The committee is investigating how Nassar's crimes were able to occur, let alone persist, for over two decades," the committee said in its letters, noting that each organization is "at the center of many of these failures."
The House investigation comes one day after a bipartisan group of senators called for a similar special congressional investigation into how USA Gymnastics and the U.S. Olympic Committee allowed Nassar's crimes to occur. The senators are pushing for a temporary panel devoted solely to the investigation, with female senators making up half the panel's membership.
"The U.S. Olympic Committee and USA Gymnastics need to be held accountable," said Sen. Jeanne Shaheen (D-N.H.), who is leading the resolution with Sen. Joni Ernst (R-Iowa) at a Wednesday news conference. "This is not a simple case of negligence or failed oversight. There is ample evidence that many were alerted multiple times to Nassar's behavior and they found excuses to look the other way."
These are not the only two investigations the government has launched into Nassar's behavior, and others' complicity. The Department of Education has launched a probe into Michigan State University, which has been accused of potentially violating federal law regarding how it handled claims of Nassar's abuse when he worked at the school as an athletic trainer. Sen. Kirsten Gillibrand (D-N.Y.) has also called on the Department of Justice to investigate the U.S. Olympic Committee over the scandal.
Nassar has been accused of sexual misconduct by 265 women and girls as of Jan. 31, including by many prominent Olympians. He was sentenced to 175 years in prison on Jan. 24 following seven days of testimonies from his victims, in addition to a previous 60-year sentence for child pornography charges. On Monday, Nassar faced his third sentencing in Eaton County, Michigan, where he was handed 40 to 125 years.
Though Nassar's sentencing revealed how widespread sexual abuse is in the gymnastics community, it's far from the only Olympic sport in which sexual misconduct is alleged to run rampant. According to the Washington Post, more than 290 coaches and officials associated with U.S. Olympic sports organizations have been publicly accused of sexual misconduct since 1982. Most recently, 2012 Olympic swimmer Ariana Kukors alleged Wednesday that she had been abused by her former coach Sean Hutchison,
The Pyeongchang Olympics are the first to offer sexual assault resource centers in the Olympic Village, which will give athletes access to psychological counseling, medical care, legal advice and ways to report violence to police.
In addition to its focused efforts on Nassar, Congress will take a broader look at the issues with sexual misconduct in organized sports. Congress passed legislation in January that would mandate adults involved with the Olympics and other amateur sports organizations to contact the authorities within 24 hours of receiving facts that may indicate an incident of abuse.
The House Energy and Commerce Committee on Jan. 26 also launched an investigation into sexual abuse in organized sports. In addition to USA Gymnastics, it is also specifically targeting USA Swimming and USA Taekwondo following their own recent sexual misconduct allegations.
The International Olympics Committee acknowledged that more has to be done regarding sexual abuse in Olympic sports during a press conference prior to the Pyeongchang games.
What could come of the Nassar investigations?
The congressional investigations into the Nassar scandal come as USA Gymnastics and the U.S. Olympic Committee have come under fire for their incapability, or alleged unwillingness, to stop Nassar's abuse and adequately protect their athletes.
The IndyStar reported that USA Gymnastics waited five weeks after learning about Nassar's abuse to report it to the FBI. Nassar kept working during the FBI investigation, and was able to assault at least 40 women and girls during that time, according to the New York Times.
The organization's handling of the Nassar scandal reportedly reflects a broader case of USA Gymnastics' inadequate responses to abuse. The IndyStar reported that the organization had a longstanding policy of treating sexual abuse allegations as "hearsay" — unless they came directly from a victim or a victim's parent. Because of this, many allegations went unreported to authorities. Over the course of 20 years, there had been more than 360 cases of gymnasts accusing their coaches of sexual misconduct, the paper reported. USA Gymnastics noted that over a 10-year period, the organization had banned 37 coaches who had complaints filed against them, and 48 complaints were handled in conjunction with law enforcement.
Former gymnast Jessica Howard, who served on the organization's board of directors and who has come forward as one of Nassar's victims, wrote in a New York Times op-ed, "When a sexual abuse case came up during my time on the board, the concern was about the reputation of the coach — not the accusation of the athlete."
The U.S. Olympic Committee has forced the resignation of the USA Gymnastics board over the Nassar scandal — although the Olympic Committee is reportedly not without fault. According to the Wall Street Journal, the committee failed to intervene after learning about the allegations against Nassar from USA Gymnastics in June 2015.
The U.S. Olympic Committee has launched a third-party investigation into their organization and USA Gymnastics, which will "examine how an abuse of this proportion could have gone undetected for so long," committee head Scott Blackmun wrote in an open letter to Team USA athletes. But many have called for Blackmun's resignation in the wake of the Nassar scandal, including Sens. Shaheen and Ernst. The Olympic Committee has said he will stay on at least until the investigation has concluded.
"The Olympic system in the United States failed those athletes," Olympic Committee chairman Larry Probst said during a pre-Olympics news conference Friday. "And we are part of the Olympic system in the United States."
A group of athletes, coaches and lawyers, who have organized as the Committee to Restore Integrity to the USOC, sent a 13-page report to the House Committee on Energy and Commerce condemning the organization and Blackmun. The letter claimed the USOC didn't adequately protect athletes from abuse and left them to fend for themselves, "[creating] the underlying conditions for sexual abuse to thrive by cutting athletes off from institutional support."
The Washington Post reported on the Olympic Committee's "historic reluctance" to take on sexual abuse allegations in February 2017, recounting an instance of the organization failing to act after learning about the abuse of a taekwondo athlete. USOC didn't begin recommending basic child protection measures, like background checks, until 2012, the Post noted. Blackmun only acknowledged the need for an independent entity to investigate abuse allegations in Olympic sports in 2014.
The USOC was also criticized for not being present during Nassar's trial to hear the testimony of his victims — a move for which they've since apologized.