The myth of John Kelly and other "adults in the room" in Trump's White House is unraveling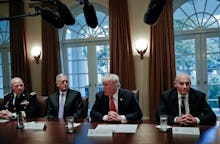 John Kelly took over as White House chief of staff in late July with a promise to bring order and discipline to an administration that desperately needed it.
The retired general, who had been helming the Department of Homeland Security, was quickly bestowed a distinction as one of the few "adults in the room" — a no-nonsense figure who could tame the chaos of the White House and contain President Donald Trump.
Even some Democrats bought into the image, expressing hope that Kelly could set the administration on a more productive path after initial months of chaos.
"The kind of discipline that he is going to bring is important," Sen. Richard Blumenthal (D-Conn.) said of the appointment at the time. "I hope that we're at a turning point now."
Now, about half a year later, that "turning point" still hasn't arrived. Not only has Kelly failed to contain Trump — he has, at times, seemed to enable him. And as his role in the disturbing Rob Porter abuse scandal becomes clearer, it's seeming like his image has never been anything more than a myth.
"John Kelly is unfit for this job. He's been caught lying, and goading, and the promise of management and discipline has turned out to be meaningless," Bill Curry, a former counselor to President Bill Clinton, said in a phone interview Friday. "Whatever kind of 'adult' he is, he isn't the kind who urges people around him to behave more decently."
Porter announced Wednesday that he's resigning as White House staff secretary after two of his ex-wives this week went public with allegations that he emotionally and physically abused them.
White House counsel Don McGahn reportedly knew about the allegations a year ago, and Kelly was apparently aware of them since at least this past fall. Nevertheless, Porter's star in the White House continued to rise — despite the fact that he had not been granted full security clearance more than a year into his job in the administration.
Not only did Kelly and other top White House officials seemingly ignore the credible accusations against Porter; the chief of staff initially defended the staff secretary when the Daily Mail and Intercept reported on the alleged abuse this week, calling him "a man of true integrity and honor."
Kelly also reportedly attempted to persuade Porter not to resign.
The imbroglio has raised significant questions about Kelly's judgment and ethics — questions that were not answered in a clumsy press briefing by deputy press secretary Raj Shah on Thursday afternoon.
"We all could have done better," Shah said, calling the allegations against Porter "serious and troubling."
But Shah failed to adequately explain how Porter remained — and thrived — in the White House for more than a year, despite Kelly having known about the allegations by Porter's ex-wives Colbie Holderness and Jennifer Willoughby. Kelly also struggled to explain what changed between Tuesday, when he heartily supported Porter, and Wednesday, when he tried to walk back that support.
All Shah could muster was that Kelly hadn't seen the images of Holderness with a black eye that she provided the Intercept before making his initial statement.
So, do Kelly and others in the Trump administration only believe women who have photographic evidence of their abuse?
"I don't think any standard applies," Shah told reporters. "We were relying on the information we had."
Kelly isn't the only supposedly reasonable figure in the White House to be wrapped up in the Porter scandal. Hope Hicks, the White House communications director and longtime Trump confidante, has come under fire for her role in crafting the administration's initial responses to the allegations.
Hicks, who is said to be romantically involved with the ousted staff secretary, recused herself from "some matters" relating to the scandal, Shah said Thursday. But Trump this week has reportedly become frustrated with her over the groundswell of "negative press attention" the administration has received in recent days. The president is reportedly fuming that she prioritized her personal feelings over her responsibilities.
That has cast the standing of the 29-year-old so-called Trump Whisperer into question — particularly as she faces scrutiny over her participation the drafting of the misleading statement Donald Trump Jr. initially used to explain his controversial 2016 meeting with a Kremlin-connected attorney he believed to have dirt on Hillary Clinton.
There has long been an image of administration officials attempting to focus Trump and act as a kind of safety net against his worst impulses — a notion that is perhaps best summarized by Sen. Bob Corker (R-Tenn.), who in an October tweet described the White House as an "adult day care center."
But who exactly is running the "day care center"?
Jared Kushner and Ivanka Trump, the president's son-in-law and daughter and advisers, have long been billed as moderating forces within the administration. But the senior advisers have repeatedly suggested they're unable or unwilling to keep Trump from his extreme inclinations on climate change, LGBTQ issues and other matters. Ivanka Trump's apparently strong disapproval of the deadly alt-right riot in Charlottesville, Virginia, in August didn't stop her father from defending some of the white nationalists and neo-Nazis as "very fine people."
H.R. McMaster, the president's national security adviser, with Kelly and Secretary of Defense James "Mad Dog" Mattis forms what is often regarded as the triumvirate of the West Wing's so-called "adults in the room." But McMaster has also seemingly been one of the driving voices behind a proposal to hit North Korea with a so-called "bloody nose" strike to demonstrate the might of the U.S. military. Experts have described such a move as "dangerous," and one that could cause the already tense situation on the Korean peninsula to escalate.
Kelly himself has failed to live up to his reputation as one of the "adults in the room" — even before it became apparent that he was complicit in the Porter scandal. He has seemed strikingly similar to Trump on numerous occasions. Back in October, he joined the president in personally attacking Rep. Frederica Wilson (D-Fla.), which apparently led to racist death threats against the congresswoman. And just this week, he drew controversy when he dismissed over a million immigrants as "too lazy to get off their asses" to sign up for the Deferred Action for Childhood Arrivals program.
For Curry, all that goes to show that the idea that the so-called "axis of adults" and supposedly moderating figures could serve as a protection against Trump is something of a myth — one that contradicts Trump's campaign promise to hire only "the best people."
"Everyone in Washington is incentivized to think well of anyone who has power, and they're even more incentivized to speak well of them," Curry said. "But there's nothing more jerry-rigged than a Washington reputation."