LL Bean return policy ends lifetime guarantee — but these 9 stores still offer unlimited returns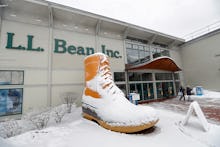 I'll never forget that chilly fall night when my college friends and I piled into our pal Dave's electric blue Dodge Dart for an overnight road trip. "Let's go to L.L. Bean," Dave said, and it seemed like a good idea at the time. After all, the retailer's headquarters in Freeport, Maine, was open 24 hours and we had nothing better to do. We left our New Hampshire campus just before midnight and made it back in time for an early French drill session in the morning.
I had never heard of a clothing store that was open 24 hours a day, 365 days a year, but being a diehard Bean fangirl — and proud owner of their duck boots — a night of lost sleep seemed a small price to pay for a pilgrimage to the retail mecca. I kept those boots for years, and when the soles on them finally wore down, I dutifully boxed them up, filled out the return form and waited for the replacement pair to arrive a few weeks later.
Total replacement cost: $0.
Not once til then had I taken advantage of L.L. Bean's amazing, lifetime return policy — even though I had purchased many items from them over the years, including a backpack, a compass and many turtlenecks. While I felt a twinge of guilt entering the reason code "01 Quality Unsatisfactory" (after all they had lasted longer than any other shoes I've bought) their return policy clearly allowed it, and I intended to partake for the first time ever.
So I was saddened, if not entirely shocked, to hear that L.L. Bean would be putting an end to its legendary policy effective Feb. 9, 2018. The company's returns page now reads: "If you are not 100% satisfied with one of our products, you may return it within one year of purchase for a refund. After one year, we will consider any items for return that are defective due to materials or craftsmanship."
You'll also need the receipts: "We require proof of purchase to honor a refund or exchange." Ouch.
The change is ostensibly because "a small, but growing number of customers has been interpreting our guarantee well beyond its original intent," according to a Facebook post by executive chairman Shawn Gorman. Apparently some people buy used Bean clothing at thrift stores or yard sales, then send it back in for new versions.
But when the move to end unlimited returns was first floated a year ago, it coincided with other cost-cutting measures at the privately-held firm, including freezing pensions and offering employees early retirement, as the Boston Globe reported.
Bean isn't the only store to roll back a great return policy in recent years, either. REI nixed its "no questions asked" return policy in 2013. Macy's shortened its return window from 365 to 180 days for most items in 2017 and Costco limited returns on electronics and major appliances to just 90 days. (For more return policies from major retailers, check here.)
The move was mostly applauded on social media, though some blamed it, of course, on millennials:
9 retailers with unlimited returns (really)
While the change in L.L. Bean's return policy is sad news, there are still plenty of stores where you can return items literally forever, although some require a receipt and may apply only for certain product categories. Here are a few.
• Aldi: "If for any reason you are not 100% satisfied with any product, we will gladly replace the product and refund your money. To receive the double guarantee, the product packaging and any unused product must be returned to your local Aldi Store Manager." (Some items excluded.)
• Anthropologie: "All merchandise — with the exception of unlimited furniture delivery items — may be returned at any time by mail or to our stores in the U.S. and Canada." (Receipt required, excludes furniture.)
• Athleta: "Give-it-a-workout guarantee. Work it out. If it doesn't perform, return it."
• Bath & Body Works: "We want you to be 100% satisfied with everything from Bath & Body Works. If for any reason you're not, simply return or exchange your products."
• Cutco: "If at any time you are not completely satisfied with the performance of your Cutco product, we will correct the problem or replace it."
• CVS: "Be 100% happy or receive 100% money back on any beauty products. If you're dissatisfied for any reason, you can return the beauty product (opened or unopened) along with your receipt or invoice to any CVS/pharmacy store."
• Dr. Martens: "Dr. Martens For Life boots and shoes come with a lifetime guarantee; if you wear them out we'll repair or replace them, simple as that."
• Jansport: "If your pack ever breaks down, simply return it to our warranty center. We'll fix it or if we can't, we'll replace it. We stand by our packs for a lifetime."
• Land's End: "If you're not satisfied with any item' simply return it to us at any time for an exchange or refund of its purchase price." (Receipt required.)
For more stores with great return policies, check out our Payoff story on the topic.
Sign up for the Payoff — your weekly crash course on how to live your best financial life.