'Newsweek' executive to return to embattled company after harassment investigation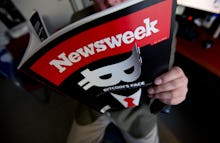 Dayan Candappa, the chief content officer of Newsweek Media Group who was placed on leave in late January following a report that he had repeatedly sexually harassed a female subordinate at a previous job, is set to return to the company, the company told staff on Friday.
In an internal note to Newsweek Media Group employees, Newsweek Media Group's head of human resources Leiann Kaytmaz said that an investigation by an outside firm, Orrick, Herrington & Sutcliffe LLP, had concluded, She said that no evidence was found to suggest Candappa had engaged in sexual harassment at Reuters or at Newsweek Media Group.
"Orrick, an independent external law firm, did not find evidence to substantiate the reported allegations of sexual harassment during his tenure with his previous employer," Kaytmaz's memo read. "Additionally, the investigation found that Mr. Candappa has conducted himself in a professional manner at Newsweek Media Group."
Candappa, who first joined Newsweek Media Group in May 2016, was placed on leave on Jan. 29 following a BuzzFeed report that detailed sexual harassment allegations against him. According to the report, Candappa was fired from Reuters in 2016 after a senior reporter complained that he repeatedly sexually harassed her and promised to further her career if she had a sexual relationship with him.
News of Candappa's prompt return to the company shocked current and former company employees, several of whom spoke to Mic on Friday anonymously because they did not want to jeopardize their jobs or their job prospects. Two staffers told Mic that employees had been told that the investigation into Candappa began on Monday. Those two staffers and one former staffer said there was widespread concern about the thoroughness of the investigation.
"This entire investigation was a bullshit charade," one person said. "Staffers were told the investigation would begin Monday and would be 'thorough' and 'complete.' A four-day investigation in the midst of a scandal-ridden personnel upheaval could hardly be categorized as either of those things."
Another staffer put it simply: "I'm extremely angry and upset."
Candappa will return to Newsweek Media Group on Feb. 12, two weeks after he was first placed on leave. He'll come back to a company that has been thrown into turmoil following the abrupt firings of three high-level Newsweek staffers Monday in apparent retaliation for publishing articles about Newsweek Media Group and its finances. Editor-in-Chief Bob Roe, executive news director Ken Li and senior writer Celeste Katz all lost their jobs, while two other staffers were initially targeted to be fired before the decisions were apparently reversed.
Since then, at least ten staffers from Newsweek or sister site International Business Times have resigned from the company in protest, Mic has confirmed. Meanwhile, Newsweek Media Group is facing allegations of ad fraud, and is being investigated by the Manhattan district attorney.
One company employee predicted that Candappa's return would only cause further chaos at the already embattled company.
"Plenty of women at Newsweek were very upset when they learned of the allegations," that staffer said. "I imagine [Candappa's return] isn't going to go over well with many staffers."
Feb. 9, 2018, 2:35 p.m.: This story has been updated.