Trump casts doubt on domestic abuse allegations against ousted staff secretary Rob Porter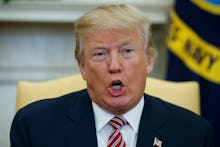 President Donald Trump on Friday broke his silence on the disturbing abuse allegations against Rob Porter, praising the work his former staff secretary did in the White House and casting doubt on the accusations against him.
"We wish him well," Trump told reporters at the White House Friday. "Obviously, tough time for him."
Porter — who resigned from his White House role this week — was accused of physical and emotional abuse by his two ex-wives, Colbie Holderness and Jennifer Willoughby. Top White House officials have long known about the allegations against him, according to reports. He has worked in the administration for more than a year without full security clearance.
The White House has come under a firestorm of scrutiny for seemingly ignoring the allegations, and for its initial responses supporting Porter. On Thursday, deputy press secretary Raj Shah told reporters that "we all could have done better" in handling the situation.
But in the Oval Office on Friday, Trump spoke warmly about the ousted staff secretary. While he was "surprised" to learn of the allegations, he said, he hopes that Porter has a "wonderful career."
"Hopefully, he will have a great career ahead of him," Trump told reporters.
At no point in his statement did he mention either of the women who were allegedly abused by Porter.
Holderness provided photographs to the Intercept of her with a black eye — allegedly the result of Porter hitting her in the face during a 2005 trip to Italy.
Yet the president attempted to cast doubt on the allegations, pointing to Porter's continued denials of any wrongdoing.
"As you know, he says he's innocent. And I think you have to remember that," Trump said. "He said very strongly that he's innocent, so you'll have to talk to him about that."
The administration's handling of the allegations has led to significant questions about the judgment of chief of staff John Kelly, who defended the Porter. Kelly reportedly attempted to dissuade him from resigning, as well as communications director Hope Hicks — who is apparently dating Porter and helped craft the initial statements backing him.
Trump is frustrated with Hicks and Kelly over the fallout, it was reported Friday. But the president has likely added to that fallout with his statement in support of Porter, in which he seemed to sympathize with the ousted aide.
"It was very sad when we heard about it," Trump said. "Certainly, he's also very sad now."