Report: Kelly offers to resign over handling of Porter abuse scandal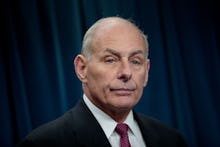 Chief of staff John Kelly told President Donald Trump he is willing to resign amid a tidal wave of scrutiny over his handling of the domestic abuse allegations against Rob Porter, ABC News reported Friday.
Porter was accused of emotionally and physically abuse by his two ex-wives in reports earlier this week, and resigned Wednesday as White House staff secretary.
Kelly — who has evidently known about the credible allegations for months — initially defended Porter as a "man of true integrity and honor" and reportedly attempted to dissuade him from stepping down.
Trump has reportedly been furious with Kelly over the fallout, and has been considering replacing the embattled chief of staff, according to multiple reports.
According to ABC News, Trump has gone as far as to ask Tom Barrack — a friend of his who chaired his inaugural committee — if he'd want the job, but he said that he was not interested.
Kelly replaced Reince Priebus as Trump's chief of staff in July 2017.
The retired general, who had been heading the Department of Homeland Security, was expected to bring order to the chaotic Trump White House. But he has failed to contain Trump, and was said to be considering leaving the administration back in October amid reported frustrations with the president.
But he dispelled those rumors in a press conference Oct. 12, saying that media reports that he was butting heads with Trump were "just not true."
"I'm not quitting today," Kelly told reporters. "I don't think I'm being fired today. And I'm not so frustrated in this job that I'm thinking of leaving."
The allegations against Porter, which top White House officials have reportedly known about for at least a year, is quickly mushrooming into one of the bigger incidents of the scandal-ridden Trump administration.
Kelly's future has grown increasingly tenuous amid the intense scrutiny over his role in the situation. Hope Hicks — the White House communications director and longtime Trump ally who is said to be dating Porter — has also drawn the ire of the president, according to reports.
But Raj Shah, the deputy press secretary, said in a briefing Thursday that the president remained confident in both Kelly and Hicks.
Trump himself waded into the matter on Friday, praising Porter and insinuating that the accusations against the former aide may not be true.
"As you know, he says he's innocent," Trump told reporters in a statement that did not mention either of the ousted staff secretary's accusers. "And I think you have to remember that."