Trump on his decision to block Schiff memo: It was "very political and long"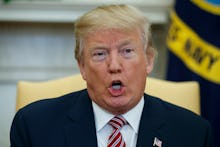 President Donald Trump on Saturday defended his decision to block the release of a memo by Rep. Adam Schiff (D-Calif.), claiming the 10-page report is "very political and long."
Democrats knew their memo "would have to be heavily redacted, whereupon they would blame the White House for lack of transparency," Trump tweeted Saturday morning. "Told them to re-do and send back in proper form!"
Democrats on Friday slammed Trump for declining to declassify the document, which responds to the controversial Nunes memo made public last week.
"[Trump's] double standard when it comes to transparency is appalling," Senate Minority Leader Chuck Schumer tweeted late Friday. "The rationale for releasing the #NunesMemo, transparency, vanishes when it could show information that's harmful to him. Millions of Americans are asking one simple question: what is he hiding?"
In a letter Friday to Rep. Devin Nunes (R-Calif.), the committee chair who penned the controversial Republican memo alleging misconduct by federal law enforcement, White House counsel Don McGahn said that releasing the Democratic rebuttal presents "significant concerns for the national security and law enforcement interests."
"Although the President is inclined to declassify the February 5th Memorandum, because the Memorandum contains numerous properly classified and especially sensitive passages, he is unable to do so at this time," McGahn wrote.
McGahn's letter does not mention any "political" reasons not to release it, as Trump did in his tweet Saturday.
Trump was expected to authorize the release of the Democratic memo, just as he did with the Republican memo Feb. 2.
That memo supposedly detailed abuses of power by the FBI and Department of Justice, alleging that authorities improperly relied on a controversial dossier to obtain surveillance warrants against Carter Page, who served as a foreign policy adviser to the Trump campaign.
Trump reportedly believed the report would help him undercut special counsel Robert Mueller's Russia probe.
But the FBI warned against the memo's release, citing "grave concerns about material omissions of fact that fundamentally impact the memo's accuracy."
Democrats said that their memo would provide those material facts and context to demonstrate that the authorities did not act improperly in obtaining Foreign Intelligence Surveillance Act warrants against Page.
The Republican-controlled House Intelligence Committee voted unanimously earlier this week to release the Democratic report.
But the administration late Friday declined to declassify it — drawing the ire of top Democrats who said that the move put the president's "hypocrisy on full display."
"This move by [Trump] confirms what we have all known for weeks — that his decision to release the [Nunes memo] was a blatantly political move made without concern for national security," House Minority Leader Nancy Pelosi tweeted Friday evening. "What does the President have to hide?"
The memo now goes back to the committee for revision.
Schiff, the ranking Democrat on the panel, criticized the president in a statement Friday, saying that the "reckless" Nunes memo should not have been released and expressed concerns about the revisions the Republican majority on the committee could make to his memo.
"After promising to treat the Democratic response in precisely the same way, the White House now seeks to have the Democratic memo sent back to the committee and revised by the same Majority that produced the flawed Nunes document to begin with," Schiff said. "We hope this matter can be quickly resolved so the committee can return to its charge — fully investigating the Russian interference in our election and the role of the Trump campaign, and what steps need to be taken to protect against foreign interference in the next election, now only months away."