Another White House staffer has resigned over domestic abuse allegations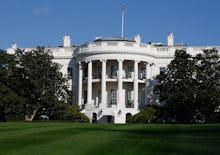 For the second time in a week, a member of the Trump administration has resigned over allegations of domestic abuse.
David Sorensen — a White House speechwriter — suddenly stepped down on Friday after his ex-wife told the Washington Post that he physically and emotionally abused her during their marriage.
According to Jessica Corbett, who was married to Sorensen for two and a half years, the speechwriter "ran a car over her foot, put out a cigarette on her hand, threw her into a wall and grasped her menacingly by her hair while they were alone on their boat in remote waters off Maine's coast, an incident she said left her fearing for her life."
Sorensen denied the accusations, according to a statement from White House spokesperson Raj Shah, but resigned after being "confronted" about them by administration officials.
He told the Post that he stepped down to avoid distracting from President Donald Trump's "historic accomplishments for the American People."
Sorensen's resignation came just two days after Rob Porter stepped down as White House staff secretary over accusations that he abused his two ex-wives, Colbie Holderness and Jennifer Willoughby.
The White House has faced a tidal wave of scrutiny over its handling of the allegations.
Porter — who did not have full security clearance — thrived in the administration, despite top officials having been aware of the accusations for at least a year.
The administration has also come under criticism for its response to the scandal.
John Kelly, the chief of staff, initially defended Porter against the allegations and reportedly attempted to dissuade him from quitting. Hope Hicks, the communications director who is said to be dating the ousted staff secretary, was involved in crafting the early responses in support of the top aide.
The White House acknowledged Thursday that it "could've done better" in its handling of the situation.
But in stunning comments to reporters Friday, Trump spoke glowingly of the accused domestic abuser and wished him well. He also appeared to cast doubt on the allegations against him.
"As you know, he says he's innocent," Trump said. "And I think you have to remember that."
As the Atlantic's David Frum pointed out this week, there have been several Trump staffers accused of violence against women — including former chief strategist Steve Bannon and former campaign manager Corey Lewandowski.
Trump himself has been accused by multiple women of sexual assault. His ex-wife, Ivana Trump, once accused him of raping her and violently pulling out a handful of her hair.
Trump has denied all those allegations, describing accusers as "horrible liars" and their accounts as "pure fiction."
According to the Post, Corbett came to reporters with her allegations against Sorensen before the Porter scandal broke.
A former policy adviser to controversial Maine Gov. Paul LePage, Sorensen reportedly worked under senior adviser Stephen Miller in the Trump administration.
He strongly denied the allegations against him, claiming instead that his ex-wife was actually abusive toward him.