Hope Hicks, the low-profile "Trump Whisperer," is suddenly in the middle of two major scandals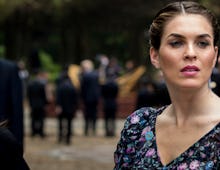 It's been a bad couple of weeks for Hope Hicks.
The 29-year-old so-called "Trump Whisperer" — who has largely avoided the spotlight that has been so unflattering to others in this White House — has found herself in the middle of two different scandals in the last two weeks.
First, it was revealed that her role in helping President Donald Trump craft a misleading statement for his son about a shady 2016 meeting with a Kremlin-connected attorney has become a focus of special counsel Robert Mueller's investigation — thrusting her for the first time into the Russia scandal that has engulfed the administration for more than a year now.
Things got worse for her this week, as the young communications director came under fire for the disastrous White House response to disturbing allegations of domestic abuse against Rob Porter — with whom she is said to be romantically involved.
All of it has served to draw the ire of Trump, with whom she has been said to enjoy an almost familial relationship — and has maybe even cast her future in the White House in a cloud of uncertainty.
"She's been caught in two coverups," Bill Curry, a former counselor to President Bill Clinton, said in a phone interview Friday. "These are important lies."
Trump "frustrated" with Hicks amid Porter scandal
Hicks' ascent in Trump World began in 2012, when she began working for Ivanka Trump's fashion line.
A former model, she began working full-time for the Trump Organization in 2014 and was soon working directly for the businessman and reality star.
He tapped her to be the press secretary on his longshot presidential campaign in 2015, though she had no political experience, and named her his director of strategic communications after his unlikely win in 2016.
In 2017, she became communications director after Anthony "the Mooch" Scaramucci was ousted after barely more than a week in the job.
Throughout it all, she has maintained a low-profile, acting as a gatekeeper and protector for the president and enjoying a rarefied status in his inner circle as one of his most trusted and loyal allies.
But that may be in jeopardy now as she gets tangled in her own web of scandals.
It was reported earlier this month that Mark Corallo, a former spokesperson for the president's legal team, will tell Mueller about a conference call he had with Hicks and Trump in July 2017 after it was revealed that Donald Trump Jr. had met with a Kremlin-connected lawyer in 2016.
Hicks and Trump had reportedly crafted a statement for Trump Jr. that explained the meeting as having been "primarily" about "a program about the adoption of Russian children."
But that statement was quickly shown to be extremely misleading after it was revealed that Trump Jr. had taken the meeting believing that the lawyer, Natalia Veselnitskaya, had Russian-collected dirt on Hillary Clinton that could help his father's campaign.
During his conference call with Hicks and Trump, Corallo apparently warned that the response they drafted aboard Air Force One would backfire because Trump Jr.'s emails setting up the meeting would eventually go public.
According to Corallo, Hicks responded that the emails "will never get out" — which some see as a suggestion that she planned to cover up the correspondence.
Trump Jr. released the emails in July.
That meeting — and the administration's misleading response to it — has seemingly become a major element of Mueller's probe into possible obstruction of justice on the part of Trump.
Then came the Porter scandal.
The staff secretary resigned Wednesday after two of his ex-wives told the Daily Mail and the Intercept that he had emotionally and physically abused them.
Colbie Holderness, Porter's first wife, provided photos of herself with a black eye she said he had given her when he punched her in the face during a 2005 trip to Italy.
Top White House officials, including chief of staff John Kelly, reportedly knew of the allegations for months, but allowed him to remain in his influential administration role for over a year — even though he hadn't been granted full security clearance.
The administration's handling of the allegations was bad enough, but its response to the scandal only made things worse.
Kelly and others in the administration initially defended Porter — and Hicks, who is reportedly dating him, was apparently involved in that response.
Trump has grown "frustrated" with Hicks as the scandal mushrooms into one of the biggest of his controversy-plagued administration, according to CNN. The president is "disturbed" by the negative press, sources told the outlet, and has told confidantes that he believes Hicks prioritized her personal feelings over her White House responsibilities.
And while CNN reports that her job does not appear to be in peril — at least not at the moment — the scandals have seemed to stain one of the few unblemished figures of the Trump administration.
"She's now been caught in two outsized lies, and every day she remains there she is being rewarded for lying," Curry said. "Which of course is something you can say of everyone there. You can't go to work for a pathological liar without agreeing to lie and without lying being your daily work."