Trump appears to suggest accused abuser Rob Porter's life was ruined by a "mere allegation"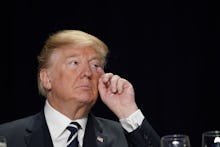 President Donald Trump on Saturday appeared to defend Rob Porter against accusations of violent abuse, lamenting that a "mere allegation" may have ruined the former White House staff secretary's life.
"Peoples [sic] lives are being shattered and destroyed by a mere allegation," Trump tweeted Saturday. "Some are true and some are false. Some are old and some are new. There is no recovery for someone falsely accused — life and career are gone. Is there no such thing any longer as Due Process?"
Porter on Wednesday resigned after his two ex-wives said that he emotionally and physically abused them. One of the women, Colbie Holderness, provided corroborating photos showing her with a black eye she said Porter gave her when he punched her in the face during a 2005 trip to Italy.
The White House has faced a firestorm of criticism over its handling of the allegations and its response to them.
Chief of staff John Kelly, who seemingly ignored the allegations for months, reportedly offered to resign this week in the midst of the scandal. Communications director Hope Hicks, who is said to be dating Porter, has come under heavy scrutiny for her role in crafting the initial White House response in support of the staff secretary.
The White House attempted to do some damage control on Thursday, acknowledging that the administration "could've done better."
But in his first public comments on the scandal Friday, Trump praised Porter and wished him well. He also seemed to suggest that he doubted the accusations against the ousted staff secretary.
"As you know, he says he's innocent. And I think you have to remember that," Trump told reporters. "He said very strongly that he's innocent, so you'll have to talk to him about that."
He did not mention either of the alleged victims of Porter's abuse.
This isn't the first time Trump has defended someone accused of violence against women.
In November, he cast doubt on accusations of child molestation against Roy Moore — then the Republican candidate running for Attorney General Jeff Sessions' former Senate seat in Alabama.
"He denies it," Trump said at the time. "He totally denies it."
He would soon break with most of his party to vociferously support the ex-judge.
Trump himself has been accused of sexual assault and physical abuse by multiple women, including his ex-wife, Ivana Trump.
He has denied the allegations as "pure fiction."