This week in Trump-Russia news: Schiff memo blocked in display of "hypocrisy"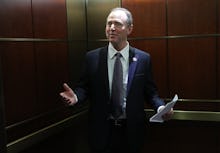 President Donald Trump is suddenly worried about "national security and law enforcement interests."
Last week, he was more than happy to ignore the "grave concerns" of the FBI to authorize the release of a controversial memo by Rep. Devin Nunes (R-Calif.) — a document he reportedly believed would help undermine special counsel Robert Mueller's Russia probe.
But on Friday, he cited concerns for "law enforcement" in blocking the response memo Democrats said provided necessary material facts and context that showed authorities did not abuse their power in obtaining surveillance warrants against Carter Page — a former aide to the Trump campaign who once claimed to be an "informal adviser" to the Kremlin.
Trump claimed that Democrats had set him up to be blamed for a "lack of transparency" by putting together a memo they knew would have to be "heavily redacted." But Democrats said his refusal to declassify the document by Rep. Adam Schiff (D-Calif.) exposed his "hypocrisy" and showed that he has something to hide.
Here's what you need to know about the drama in the House Intelligence Committee — and other developments in the Trump-Russia story this week.
Trump slams Democratic memo as "very political"
In his letter to Nunes on Friday explaining why Trump would not be releasing the memo, White House counsel Don McGahn said that the Democratic report "contains numerous properly classified and especially sensitive passages."
But Trump himself seemed to suggest on Saturday that part of the reason he held the memo back was because it was "very political" — seemingly confirming accusations from top Democrats that he wouldn't declassify the report because he didn't like what was in it.
"The Democrats sent a very political and long response memo which they knew, because of sources and methods (and more), would have to be heavily redacted, whereupon they would blame the White House for lack of transparency," Trump tweeted Saturday. "Told them to re-do and send back in proper form!"
The memo now goes back to the House Intelligence Committee for revisions.
Schiff, the top ranking Democrat on the panel, said in a statement that they will review the recommended redactions by the FBI and Department of Justice.
More allies contradict Trump about Nunes memo
The 10-page Schiff memo was a response to the Nunes memo Trump allowed to be released last week.
That report, which alleged that the FBI and DOJ abused their power, seemed to be missing crucial information related to authorities' applications for Foreign Intelligence Surveillance Act warrants.
But Trump claimed that it "totally vindicates" him in the Russia investigation — something even one of the report's authors, Rep. Trey Gowdy (R-S.C.), quickly dismissed.
Another of the president's allies joined the chorus of voices saying that the memo didn't have anything to do with the Mueller probe this week.
"No," Chris Christie, the former New Jersey governor, said on Thursday when asked if the memo vindicates Trump. "Nor does it clear anyone else in the administration."
Trump mischaracterizes NYT report to discredit probe
So, with the Nunes memo failing to kill the Russia probe, Trump went back to attacking it on Saturday — this time, by mischaracterizing a New York Times piece to suggest a deep state conspiracy against him.
According to the Times on Saturday, American spies in 2017 had cut a deal with a mysterious Russian to buy back cyberweapons that had been stolen from the National Security Agency.
The person, linked to Kremlin intelligence, reportedly insisted on offering the United States officials information tying Trump to Russia as part of the agreement.
But according to the paper, "intelligence officials said they made clear that they did not want the Trump material from the Russian, who was suspected of having murky ties to Russian intelligence and to Eastern European cybercriminals."
Still, the Russian gave the Americans the material, which was "unverified and possibly fabricated."
In Trump's retelling, though, the Americans paid a million dollars to receive the "phony secrets" about him, which he implied was part of a broader conspiracy.
"I hope people are now seeing & understanding what is going on here," Trump tweeted Saturday. "It is all now starting to come out — DRAIN THE SWAMP!"
DOJ shakeup could spell trouble for Mueller
Rachel Brand — the third-ranking official at the Justice department — is out as associate attorney general.
A veteran of three administrations, Brand is abruptly departing the DOJ for a private sector gig as an executive vice president at Walmart.
The move is significant, as she was next in line to oversee Mueller's Russia probe after Rod Rosenstein — the deputy attorney general whose job has seemed increasingly in peril amid tensions between Trump and federal law enforcement.
Now, the acting third-in-command at the department is Noel Francisco — the solicitor general who Democrats suggested during his confirmation hearing last year would be a lackey for Trump.
"He's supposed to be an independent voice within the administration," Sen. Dianne Feinstein (D-Calif.) said of Francisco in June. "Bottom line, I'm concerned that he will approach his role as Mr. Trump's solicitor general and not the solicitor general of the United States."
Trump now has Francisco waiting in the on-deck circle to be Mueller's boss — and the president may even be able to pick whomever he wants to fill that role on a permanent basis.
That could give him tremendous power over the Russia probe.
Jeff Sessions, the attorney general, recused himself from matters relating to the investigation early last year over undisclosed contacts with then-Russian ambassador Sergey Kisylak — much to Trump's chagrin.
That means Rosenstein is currently the only person with the authority to fire Mueller — as Trump reportedly wanted to do as far back as last summer.
But the deputy attorney general said in December that he does not believe there is any cause to terminate the special counsel.
That's led to speculation Trump may try to get rid of Rosenstein, whose situation has seemed especially tenuous since the release of the Nunes memo — which claimed he signed off on at least one of the FISA applications that Republicans on the House Intelligence Committee say improperly relied on the disputed dossier by former British spy Christopher Steele.
"You figure that one out," Trump said when asked about Rosenstein's job security last week.
Democrats and some Republicans have warned Trump not to use the memo as an excuse to meddle in the investigation.
But with Brand's resignation, Trump may be just a step away from installing someone at the top of the Russia probe who might be willing to follow potential orders on Mueller.
Woodward and Bernstein see echoes of Nixon in Trump
All of it has Bob Woodward and Carl Bernstein — who uncovered the Watergate scandal — thinking about former President Richard Nixon's infamous Saturday Night Massacre.
In a piece for CNN on Saturday, the legendary journalists wrote that Trump's current attacks on his investigators recall the lead-up to Nixon's 1973 house cleaning that would mark the beginning of the end of his presidency.
"Nixon didn't know it at the time, but the Saturday Night Massacre would become a pivot point in his presidency — crucial to the charge that he'd obstructed justice," Woodward and Bernstein wrote, introducing an excerpt of their new book on Nixon's downfall. "For him, the consequences were terminal."
The two say that Trump's actions carry echoes of the past.
"We're here again," they wrote.