Kellyanne Conway: Trump says John Kelly doing a great job amid Porter scandal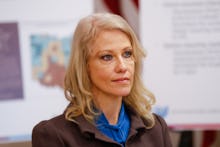 Chief of Staff John Kelly's job security has reportedly come under threat following White House staff secretary Rob Porter's recent resignation over charges of domestic abuse — but one top White House aide is saying the chief of staff isn't going anywhere.
White House counselor Kellyanne Conway appeared Sunday on CNN's State of the Union to pass along a message from President Donald Trump about Kelly's job. When asked by host Jake Tapper if Kelly's job was in jeopardy, Conway responded, "No."
"I spoke to the president last night. I told him I'd be with you today, and he said, 'Please tell Jake that I have full faith in Chief of Staff John Kelly and that I'm not actively searching for replacements.' He said, 'I saw that all over the news today, and I have faith in him.' And he does," Conway said Sunday.
She added, "[Trump] says that General Kelly is doing a great job and that he has full faith in him, and I think he looks at the full measure of all of us."
Kelly has come under fire in the wake of Porter's resignation amid reports that the chief of staff knew about the allegations against Porter for months and failed to act. The chief of staff praised Porter as a "man of true integrity and honor" after the accusations became public, and reportedly attempted to convince Porter not to resign.
Trump has reportedly been furious over the fallout from the scandal, leading to the speculation over Kelly's job security. Reports have suggested that Trump has been searching for a potential replacement for Kelly over the scandal, with current Office of Management and Budget Director Mick Mulvaney being a potential pick.
Conway defended Kelly herself Sunday, saying that there was "no way" for her "to know what [Kelly and White House counsel Don McGahn] knew" about the allegations against Porter. She said Sunday she believed Kelly "became fully aware when the rest of us did" regarding the Porter allegations, referring to when the articles detailing the allegations were published.
"We should not jump to everything that's being said, and thinly sourced, and being screened on the chyrons as being true," Conway said.
The White House counselor also defended Trump following criticism over his response to the Porter allegations, saying the president is "sympathetic towards women and men who are victims of domestic violence."
Trump — whose first wife, Ivana, accused him of domestic violence — has praised Porter and suggested that the allegations against him may not be true, telling reporters Friday, "As you know, he says he's innocent. And I think you have to remember that."
On Saturday, Trump seemingly doubled down on his defense of Porter, speaking out in favor of those accused of abuse and sexual misconduct more generally. The president tweeted, "Peoples lives are being shattered and destroyed by a mere allegation. Some are true and some are false. Some are old and some are new. There is no recovery for someone falsely accused — life and career are gone. Is there no such thing any longer as Due Process?"
Conway herself said Sunday that she was "horrified" and "very shocked" by the allegations, adding that she has "no reason not to believe the women."
When asked if Trump believed the women who have accused Porter of abuse, Conway responded, "The president is very disturbed by what he sees, absolutely, and you can feel that somebody did a great job for you. You can talk about somebody's competence and work product and the person you worked with and knew, and that's what the president did Friday in his statement. And you can still feel horrified when you see pictures and contemporaneous reports."
Conway added that the president's Saturday tweet was more "generic," telling Tapper that Trump "never said the Me Too movement; he never said Rob Porter's name. He's saying that some are old; some are new. I'm going to use my words now. Some are done contemporaneously; some are done retrospectively — that probably wouldn't fit in a tweet. But that's different than what we see in the Porter situation, and that's different than the entire Me Too movement."