Openly gay Olympic athlete Gus Kenworthy: "Eat your heart out, Mike Pence."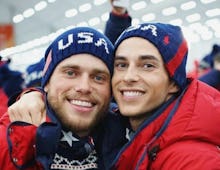 The Winter Olympics kicked off Friday in Pyeongchang, South Korea, with Vice President Mike Pence leading the U.S. delegation — but not everyone on Team USA is excited about the prospect of meeting him.
Freestyle skier Gus Kenworthy spoke out against the vice president, who has a lengthy record of opposing LGBTQ rights, during a news conference Sunday. Kenworthy, who won a silver medal at the 2014 Sochi Olympics, became the first openly gay action sports athlete when he came out in ESPN The Magazine in 2015, according to Reuters.
"I don't think I have any inclination for a meeting," Kenworthy said when asked if he would meet the vice president, as quoted by USA Today. "I think in terms of distractions, that would be a much bigger distraction for me, and I'm just focused on competing."
Kenworthy has previously voiced his opposition to Pence's participation in the Olympics. In an appearance on the Ellen DeGeneres Show prior to the games, Kenworthy said the vice president was a "bad fit" for the Olympics delegation.
"To have somebody leading the delegation that's directly attacked the LGBTQ community, and a Cabinet in general that just sort of stands against us and has tried to do things to set us back, it just seems like a bad fit," Kenworthy told DeGeneres, adding, "I feel like the Olympics is all about inclusion and people coming together, and it seems like it's not really doing that."
During the Olympic opening ceremony Friday, Kenworthy then took aim at the vice president in a photo on Instagram with figure skater Adam Rippon, the only other openly gay U.S. winter Olympian.
"I feel incredibly honored to be here in Korea competing for the U.S. and I'm so proud to be representing the LGBTQ community alongside this amazing guy!" Kenworthy wrote in the Instagram caption. "Eat your heart out, Pence."
Rippon has also been publicly outspoken in his opposition to the vice president, saying Pence "doesn't stand for anything that I really believe in." The figure skater reportedly turned down a meeting with Pence that the vice president hoped to arrange in response to Rippon's criticism.
"If it were before my event, I would absolutely not go out of my way to meet somebody who I felt has gone out of their way to not only show that they aren't a friend of a gay person but that they think that they're sick," Rippon said in an interview with USA Today. "I wouldn't go out of my way to meet somebody like that.
"I don't think [Pence] has a real concept of reality," Rippon added. "To stand by some of the things that Donald Trump has said and for Mike Pence to say he's a devout Christian man is completely contradictory. If he's OK with what's being said about people and Americans and foreigners and about different countries that are being called 'shitholes,' I think he should really go to church."
Kenworthy also spoke Sunday about his excitement to represent the LGBTQ community at the Olympic Games.
"I think that myself being out, Adam being out, all these athletes finally being out for the first time, I think it just shows a shift, a change, and hopefully in the future it means that it won't be a big thing," Kenworthy told Reuters.
"It won't be a headline, it won't be the gay Olympian, the gay skier, the gay anything, it will just be a skier."