Report: Rep. Devin Nunes is funding his own news website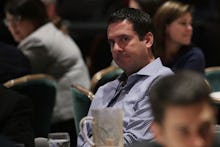 Rep. Devin Nunes (R-Calif.), the controversial head of the House Intelligence Committee, has been one of the GOP's most outspoken critics of the media — and now it seems he wants a stake in it himself.
Politico reported Sunday that the member of Congress has been funding his own local conservative news website, the California Republican. The site, which was temporarily down as of this writing, claims to provide "the best of U.S., California and Central Valley news, sports and analysis" and notes in small print that is funded by Nunes' campaign committee.
Recent headlines on the website, according to Politico, include "Understanding the process behind #ReleaseTheMemo," "CNN busted for peddling fake news AGAIN!" and "Dem CA Rep roasted on CNN, proceeds to make a fool of himself," referring to fellow California congressman Rep. Ted Lieu.
The website, which is classified on Facebook as a "media/news company" and has amassed over 3,000 "likes," has been in operation since mid-2017, according to Politico. It was first registered by Alex Tavlian, a Fresno, California-based communications consultant who has been paid by Nunes' campaign.
Nunes' 2018 Democratic challenger Andrew Janz told Politico the website was "typical Devin Nunes," adding the congressman has got "fake memos, fake websites and fake news."
"It's disappointing to see a member of Congress, especially one who chairs an important committee, spread misinformation to his constituents, who he knows will just eat it up," Janz said.
Nunes has recently come under fire from both the media and his colleagues in the U.S. government for his decision to release a House Intelligence Committee memo concerning Trump associate Carter Page. The memo's accuracy has been contested by Democrats and the intelligence community.
An op-ed published about the memo in the Fresno Bee, which is based in Nunes' congressional district, described the congressman's performance as chairman of the House Intelligence Committee as "nothing short of embarrassing."
"What, pray tell, does Rep. Devin Nunes think he's doing by waving around a secret memo attacking the FBI, the nation's premier law enforcement agency?" the editorial asked.
"[Nunes] certainly isn't representing his Central Valley constituents or Californians, who care much more about health care, jobs and, yes, protecting Dreamers than about the latest conspiracy theory," the article continued. "Instead, he's doing dirty work for House Republican leaders trying to protect President Donald Trump in the Russia investigation."
As a result of his treatment by the media, the California congressman has frequently spoken out against the media and so-called "fake news."
"Almost every story is fake news. … Almost every story that runs about me is fake. I mean, it's unbelievable the stuff that is out there," Nunes recently told radio host Rush Limbaugh, as quoted by Politico.
"Democracy does die in darkness. The problem is, is the darkness ... emanating from the mainstream media themselves. I mean, they refuse, they absolutely refuse to cover the truth. They don't want to cover it," Nunes added.