Immigration, infrastructure, budget: What to know for a week of new Trump administration policies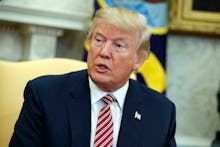 Welcome to Mic's daily read on Donald Trump's America. Want to receive this as a daily email in your inbox? Subscribe here.
Monday's dispatch: Rapid-fire policy week
Legislators in Washington, D.C., will review several policy proposals, beginning Monday, that will kick off weeks of debate about the federal budget, infrastructure, immigration and more. This comes off Friday's move by lawmakers to increase federal spending by $300 billion over the next two years — and fund the government through March 23.
The budget: On Sunday evening, President Donald Trump introduced his budget for 2019. The proposal would cut $3 trillion from the federal deficit over the next decade. The White House was not specific about which programs would be slashed to accomplish those cuts. More details are expected to be released Monday morning.
Much of the budget Trump introduced in 2017 didn't come to pass, as Congress preserved funding for dozens of federal programs the administration wanted to slash. The budget could prove even more irrelevant to Congress this year, given the passage of a two-year budget plan on Friday. Still, Trump is likely to use this budget to rally his base by saying he's investing heavily in border security and the military while cutting "wasteful Washington spending." Democrats will slam the White House for again calling for cuts to programs that help the poor, research disease or feed the elderly.
Of note: This plan will drop the traditional GOP vision of balancing the federal budget within ten years.
Infrastructure: Monday will also bring the introduction of Trump's infrastructure plan. The proposal will be sold as a $1.5 trillion investment over the next 10 years into America's bridges, roads and airports. In reality, the legislation would spend $200 billion in federal dollars to attract $1.3 trillion in local, state and private investment. The administration says it will focus on cutting "red tape" to greatly reduce how long it takes to approve construction, and draw the $200 billion from thus far unspecified cuts to existing programs.
The American Society for Civil Engineers says the U.S. needs to spend $4.59 trillion on repairing the country's infrastructure by 2025. That makes the federal investment in this plan a drop in the bucket, and the total promised investment wholly insufficient. Still, this will be the first time Congress seriously considers a major infrastructure bill since Democrats passed the stimulus package under former President Barack Obama, which spent $80 billion on infrastructure. Trump's package would be a 250% increase over Obama's.
Immigration: The Senate will kick off its promised open debate on immigration this week, with a conservative bill that resembles the legislation outlined by Trump. Senate Majority Leader Mitch McConnell (R-Ky.) promised Democrats that if they agreed to continue funding the government, he would support open debate on an immigration bill — a rare and uncalculated move for the senator. Congress has until March 5 to pass legislation that protects Deferred Action for Childhood Arrivals recipients whose status has already expired, and preserve the program permanently.
It's unclear if this process will work. Trump has been clear that in exchange for a pathway to citizenship for 1.8 million people brought to the United States as minors, he wants to see reforms that drastically reduce who can come to the U.S., and who can come with them. That aspect is going nowhere with Democrats, at least nine of whom must support the proposal in the Senate for the legislation to move forward. And whatever clears the Senate will face immediate problems in the House, where Speaker Paul Ryan (R-Wis.) must work carefully to not lose a majority of his caucus in supporting a Senate-passed immigration bill.
Other policy advances: Vice President Mike Pence told the Washington Post during his trip home from the Olympics that the U.S. is ready to talk with North Korea. The South Koreans will take the lead in near-term negotiations, Pence said, potentially followed shortly thereafter by the U.S.
Unlike Environmental Protection Agency administrator Scott Pruitt, Scott Gottlieb has found a way to protect public health while pleasing the health industry where he worked as a practicing doctor and academic at New York University, the New York Times reported. The Food and Drug Administration commissioner has won praise from former critics, who were initially wary of his industry ties but approve of his approach after a year.
The Trump administration wants to make the International Space Station commercially run by 2024, the Washington Post reported.
Today's question: Which of these policy proposals will you watch the closest?
Please email us at trumpsamerica@mic.com with your thoughts.
This week in Trump's America:
Coalitions in Congress could quickly form or collapse on immigration. Lawmakers made clear after the State of the Union and throughout last week that reaching 60 votes in the Senate on an immigration bill will be extremely difficult. So this may go nowhere.
Acknowledging that reality, White House officials have begun floating a plan that would maintain current immigration levels — a dramatic shift from the initial Trump proposal, which critics say could cut immigration by up to 40%.
Are you watching this? From Politico: "Progressive insurgents are launching challenges to Democratic members of Congress in some of the country's bluest districts, sparked by deep frustration with the party establishment and anti-Trump anger."
In that vein: House Minority Leader Nancy Pelosi (D-Calif.) stood for eight hours on Thursday to demand the House vote to protect DACA recipients. But after the House passed a budget bill she voted against, Pelosi praised the legislation.
Pelosi has walked a fine line to stay in power as progressives and moderates alike take issue with her approach. Can she survive until the midterms?
ICYMI: Rachel Brand, the No. 3 official at the Department of Justice, announce d Friday she will resign. She would have inherited oversight of the Trump-Russia investigation if the president fired Deputy Attorney General Rod Rosenstein.
John Kelly: Top officials say Trump continues to have confidence in White House chief of staff John Kelly, who reportedly considered resigning Friday over his handling of domestic abuse allegations against staff secretary Rob Porter.
Over the weekend, Trump appeared to tweet a defense of Porter by saying "a mere allegation" can ruin someone's life. Porter's ex-wives provided photographic evidence of his alleged abuse. One of them took out a protective order against Porter.
Today's MicBite:
Mic's Jack Smith IV introduces us to the right's billionaire megadonor family, the Mercers — known climate change deniers and bankrolllers for far-right ideologies.
Click or tap below to watch.