Ashley Graham, Danielle Brooks and Selma Blair walk in Christian Siriano's 10th anniversary show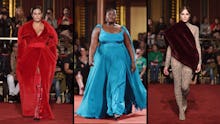 A usually special show at New York Fashion Week was made even more extraordinary this season. On Saturday, Christian Siriano brought out star models, adored celebrities and a perfect front-row lineup to appreciate his 10th year at NYFW, and a 72-look collection that was luxurious and romantic, with red fur coats and glittery ballgowns inspired by the 18th century British art that hangs in the Queen's Gallery in London.
The show commenced with Ashley Graham, who had surprisingly never opened a show herself before, walking around an ornate room in the Grand Lodge, which is known to be the largest and oldest Freemason location in New York.
Gazing up on her, in the front row, was a lineup of unspeakable greatness: Cardi B alongside Molly Shannon, Meg Ryan, Whoopi Goldberg and Laverne Cox.
Models of various genders and ages and sizes and shapes and shades followed Graham's lead, including models Precious Lee, Marquita Pring, Sabina Karlsson and Siriano's own sister.
We were particular fans of these metallic, glittery suits.
If an actor wore one of these to the Oscars, we would perish.
Then amidst these models, there were certain movie and TV stars, including the wonderful Danielle Brooks who got to wear a Cinderella-esque gown, and Selma Blair, a true icon.
Brooks, it seemed, was having more fun than just about anyone else.
In addition to celebrating not only great fashion but his 10 years at NYFW, Siriano once again proved just how stunning a fashion show can be when you both focus on fashion and the extraordinary people modeling it.