As domestic violence allegations rattle the White House, Congress is moving to help victims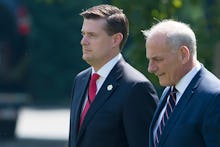 The Trump administration has had to contend with the issue of domestic violence in recent days, as two staffers have exited the White House over allegations of physical abuse from their ex-wives.
White House staff secretary Rob Porter resigned from his position Wednesday after the Daily Mail published accounts from his two ex-wives alleging he had been physically and emotionally abusive. On Friday, White House speechwriter David Sorenson resigned under similar circumstances.
The allegations have sparked controversy in the White House. Chief of staff John Kelly has come under fire for reportedly knowing about Porter's alleged abuse for months. President Donald Trump — who has faced his own allegations of domestic violence from first wife, Ivana Trump — has also been criticized for his response to Porter's resignation.
The allegations have prompted a broader condemnation of the Trump administration's neglect of domestic violence. In addition to Trump's comments on Porter — just one occasion in a history of defending men accused of abuse — the president has yet to appoint a head of the Department of Justice's Office on Violence Against Women.
Elsewhere in Washington, however, members of Congress on both sides of the aisle have made progress in attempting to prevent domestic violence, introducing multiple bills aimed at protecting victims that could one day make their way to Trump's desk. Here are a few key pieces of current legislation that could help combat domestic violence and shield victims.
Protecting Domestic Violence and Stalking Victims Act of 2017
While protections already exist to prevent convicted domestic abusers from purchasing firearms, new legislation is attempting to close loopholes that still allow some to slip through the cracks. According to the Giffords Law Center to Prevent Gun Violence, abused women are five times more likely to be killed if their partner possesses a firearm. There's also an established link between domestic abusers and mass shootings.
The Protecting Domestic Violence and Stalking Victims Act, which was introduced in the House by Rep. Anthony Brown (D-Md.) and in the Senate by Sen. Amy Klobuchar (D-Minn.) in May, would seek to close several loopholes in current U.S. law by preventing convicted stalkers, those under temporary restraining orders and dating partners convicted of domestic violence from purchasing firearms.
Under the U.S. criminal code, domestic abusers are only barred from owning firearms if they are convicted of abusing their "spouses, former spouses, parents, people who share a child and cohabitants," Brown's office noted in a press release. This ignores the fact that 49% of all murders committed by intimate partners are carried out by non-spouses, according to the Giffords Law Center.
In July, the House also introduced the Zero Tolerance for Domestic Abusers Act, which would similarly close the dating partner and stalker loopholes for firearms. The legislation would also expand the term "misdemeanor crime of domestic violence" — which currently has the same limitations as the firearms ban — to apply to current and former dating partners.
Fix NICS Act of 2017
Domestic abusers are still able to purchase firearms thanks to the failings of the National Instant Criminal Background Check System, which is missing millions of records detailing criminal convictions and other information that would prevent individuals from buying the weapons.
The system came under fire in November when it was discovered Devin Kelley, the suspected gunman in a mass shooting at a church in Sutherland Springs, Texas, was able to purchase a firearm despite his domestic violence convictions. His charges were never entered into the background check system, one of several instances in which that has happened with mass shooters.
The Fix NICS Act, which is sponsored in the House by Rep. John Culberson (R-Texas), attempts to improve the current flaws with the system. The bill, which passed the House Judiciary Committee in November, would require federal and state agencies to produce NICS implementation plans, enforce consequences that hold agencies accountable for correctly entering records into the database, and reauthorize and improve law enforcement programs that help state governments share information with the NICS.
The Domestic Violence Records Reporting Improvement Act of 2017 also takes aim at the NICS. It was introduced in the House in October by Rep. Ryan Costello (R-Penn.) and would tie a state's eligibility for grants under the National Criminal History Improvement Program to their actions in reporting domestic violence records to the NICS.
SAFE at Home Act
Introduced in September by Sen. Roy Blunt (R-Mo.), the SAFE at Home Act would defend domestic violence victims by strengthening another program aimed their protection: address confidentiality programs.
These address confidentiality programs help prevent domestic abusers from tracking down their victims using their publicly listed address. According to the Stalking Resource Center at the National Center for Victims of Crime, 36 states have established programs that provide victims with a legal substitute address to use in place of their actual physical address.
The SAFE at Home Act would regulate these programs on the federal level, requiring federal courts and agencies to accept addresses that have been assigned using address confidentiality programs. An individual's actual address would be considered confidential and would not be subject to a Freedom of Information Act request.
POWER Act
Another Republican-backed bill aimed at empowering domestic violence victims is the POWER Act, which is sponsored by Sen. Dan Sullivan (R-Alaska). The bill passed the Senate in August, but has yet to move forward in the House.
The POWER Act makes it easier for domestic violence victims to obtain legal services by establishing a "nationwide volunteer force" of pro bono lawyers working to help women who have experienced domestic violence, the Anchorage Daily News noted. The legislation would require U.S. attorneys general to hold at least one annual event that connects anti-violence groups with volunteer lawyer projects to establish pro bono services for domestic violence victims.
"I will tell you that I've gotten up in front of my (Republican) conference on more than one occasion touting the importance of [domestic violence legislation] … Sometimes you get the feeling when you're here that these issues are viewed as women's issues, and maybe even Democratic women's issues," Sullivan said, as quoted by the Anchorage Daily News.
"And I've tried to make the case that these should not have any party affiliation," Sullivan continued. "And if anybody should care about them, it should be the men, because the men are the ones who perpetrate the vast, vast majority of these heinous crimes, not only in the state but across the country."