With Flamin' Hot Cheetos and models of every kind, Chromat's NYFW show was pure joy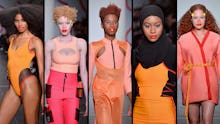 There are different kinds and levels of joy you can experience when observing a truly interesting fashion show. There's the joy of seeing for the first time innovative, thought-provoking fashion unlike any other. There's the joy of seeing beautiful models of various sizes, colors, shapes and genders walking in that fashion. Then there's the rarer joy of seeing something so totally unlikely and surprising that you have to squint and think, "Wait, is that really what I think that is?"
The Chromat show at New York Fashion Week on Friday had all of those joys all at once. In a show soaked in sunset hues with a cast of models the most diverse we've seen, Chromat set a bar not only for inclusivity, but also for the amount of joy a fashion show can bring.
"I do feel that expressing joy can be really a revolutionary kind of tool in fighting oppression," Chromat designer Becca McCharen-Tran said in an interview. "Just to create space for your own joy within the spiral I think takes a lot of strength."
We, for example, frankly cannot think of anything more joyful to see on a fashion runway than models snacking on Flamin' Hot Cheetos, entirely unbothered.
Or chicly packing cans of Red Bull, for that matter.
Then there was the array of models whom you wouldn't expect to see at a fashion show, which is another absolute joy to see. Chromat's long-held belief that all kinds of women should model for the brand was on full display: One of the models in Friday's show, Diandra Forrest, has albinism. Another is an amputee, and a hijabi model also walked the runway.
There was Ericka Hart, a sex educator and breast cancer survivor who had a double mastectomy.
There were Chromat veterans Carmen Carrera, Denise Bidot, Geena Rocero and Emme. Known as the first plus-size supermodel, Emme made her NYFW debut in 2017 at the Chromat show.
A full range of fashion on a full range of women.
"Having diversity be celebrated on the runway ... rewrites the rules for what is beautiful and what is fashion," McCharen-Tran said. "I think for far too long, the rules have been based in white supremacy and based off the patriarchy that founded our country. So I think we are actively fighting white supremacy every time we put on a runway show by highlighting people [who] haven't been represented in high fashion as much."