Transgender woman Celine Walker fatally shot in Jacksonville, Florida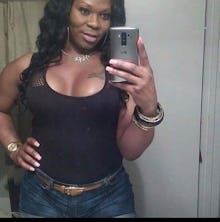 Celine Walker, 36, was found fatally shot in a Jacksonville, Florida, hotel room Feb. 4 in what is the fourth reported homicide of a transgender person in the U.S. so far in 2018, according to JaxGay.com, a local LGBTQ news site.
Reports of Walker's death came just days after news that Tonya Harvey, a 45-year-old trans woman, was fatally shot in Buffalo, New York.
Multiple local media reports misgendered Walker, as did the Jacksonville Sheriff's Office, which is conducting the investigation into her death. In a phone call Monday, Jacksonville Sheriff's Office spokesperson Chris Hancock told Mic, "He was a he per legal documents ... A lot of people are upset that we haven't identified her as a female when she wasn't a female."
When asked about Walker's trans status, Hancock said, "We identified the victim by who the victim was." He also said there were no new updates in the investigation.
Friends of Walker's on social media have taken on the dual roles of mourning their friend's death and calling on police and local media in Jacksonville to correctly identify Walker as trans. One friend of Walker's posted Thursday, "I'm am BEGGING Everyone to PLEASE CONTACT the local media about the misgendering of Celine Walker, a Transwoman who was only trying to live HER LIFE."
As Arielle Gordon, a trans activist, student and GLAAD intern told Mic in November, misgendering trans victims of homicide is one of the reasons trans deaths are chronically underreported.
Even when victims are out as trans, as was the case with Walker, they're still likely to be misgendered or "deadnamed" — referred to by their birth names or former names — in reports about their deaths, Gordon said.
According to a 2016 estimate, trans people make up just .6% of the U.S. population, but the trans community — especially trans women of color — faces disproportionately high rates of fatal violence. In 2017, there were at least 25 reported homicides of trans victims — although, as Gordon told Mic, the real number is likely much higher.