Trump's budget breaks a key campaign promise in call to slash Medicare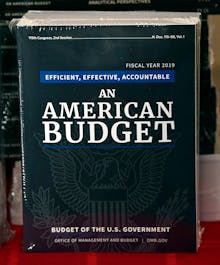 President Donald Trump on Monday released his 2018 budget, a 160-page proposal that calls for slashing billions from popular social safety net programs such as Medicare, Medicaid and food stamps, as well as increasing military spending and funds for his proposed border wall.
The budget is merely a blueprint for what Trump wants to see, and it's unlikely to be enacted, given that Congress passed its own two-year budget on Friday.
Still, it lays out Trump's priorities for how taxpayer funds should be spent. And it shows that Trump is abandoning a key campaign promise, in which he said he would never cut Medicare nor Medicaid — or government-run health insurance programs for seniors and the poorest Americans.
In fact, over the next 10 years, Trump is seeking a $266 billion cut to Medicare, and a $214 billion cut to the Supplemental Nutrition Assistance Program, better known as the food stamp program.
While Trump's budget calls for deep cuts to the social safety net, it doesn't accomplish his other key campaign promise to eliminate the national debt in eight years.
The budget would lead to a $450 billion deficit by 2027. That's partly thanks to calls for increases in spending on defense and border protection — such as an $18 billion request for Trump's long-promised border wall between the United States and Mexico.
However, the tax reform plan Republicans passed in 2017 is also a significant factor to the deficit, given that the bill decreases revenue coming into the treasury.