Team USA's Chloe Kim makes history as the youngest female snowboarder to win Olympic gold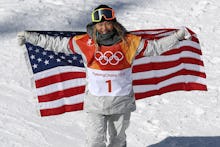 During the Winter Olympics, Mic is tracking a group of athletes who are smashing records and breaking boundaries. To follow the coverage, visit our Olympics hub.
On Tuesday night at around 9:30 p.m. Eastern, Chloe Kim made history when she earned the gold medal in halfpipe at the Pyeongchang Winter Olympics. The 17-year-old Korean-American became the youngest female snowboarder to win Olympic gold.
During the final, Kim laid down a performance that was truly impressive. She earned a score of 93.75 on her first run — hitting a frontside 1080 and a front 900 with a tail grab, among other jumps, and on her second run, she earned a score of 41.50 by hitting a frontside 1080 and then narrowly missing hitting a second 1080. It was a victory lap for Kim's third run: Coming down the pipe, Kim hit back-to-back 1080s, nailing her best Olympic run and scoring an impressive 98.25. Liu Jiayu, representing China, placed in second with her highest score coming in at 89.75. Fellow American snowboarder Arielle Gold came in bronze with a score of 85.75.
In what seems to be a new Chloe Kim tradition, the snowboarder tweeted about food in between runs during the final.
Kim has been dominating the competitive snowboard scene for years. She's won four golds, one silver and one bronze at the X Games. In February 2016, she became the first female snowboarder to land back-to-back 1080s in a competition at the U.S. Snowboarding Grand Prix.
Kim isn't the only snowboarder making a mark on history. On Sunday, 17-year-old Red Gerard became the youngest American man to medal at the Winter Olympics since 1928 when he put down a high-scoring final run in the slopestyle final. He's the first American medalist born after the year 2000 and, in classic teenage fashion, overslept on the day of competition and said "holy shit" on live TV when he won, Business Insider reported.
Fellow American snowboarder Jamie Anderson, who won the gold medal at the 2014 Winter Olympics in Sochi, Russia, again brought home slopestyle gold Sunday.
Now that the halfpipe event is over, Kim can rest easy — and maybe get some ice cream and another breakfast sandwich.