"Dead on arrival": DACA deal looking unlikely as McConnell sides with Trump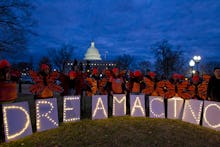 A deal to address the fate of roughly 800,000 undocumented immigrants brought to the country as minors is now on thin ice after Senate Majority Leader Mitch McConnell sided with President Donald Trump's hardline immigration proposals.
The Senate on Monday voted 97 to 1 to begin an immigration debate in an effort to codify the Deferred Action for Childhood Arrivals program into law before the program expires on March 5 — the arbitrary end date President Donald Trump placed on DACA.
But McConnell — who as Senate majority leader controls what legislation makes it to the floor — endorsed a bill that is unlikely to receive even a majority of votes in the Senate, let alone the 60 votes needed to advance the legislation.
The bill McConnell supports was crafted solely by Republican senators, including Chuck Grassley of Iowa, John Cornyn of Texas, James Lankford of Oklahoma, Thom Tillis of North Carolina, David Perdue of Georgia, Tom Cotton of Arkansas and Joni Ernst of Iowa.
The bill would provide a pathway to citizenship for roughly 1.8 million undocumented immigrants brought to the country as minors, but also includes some of Trump's demands, including a $25 billion allocation for his U.S.-Mexico border wall. It also includes changes that would cut the number of legal immigrants allowed to come to the U.S.
Democrats, and at least one Republican — Sen. Jeff Flake (R-Ariz.) — are against the proposal. Given that Republicans have a slim 51-vote majority, and are down one member, with Arizona GOP Sen. John McCain's absence because of his brain cancer, it's unlikely the McConnell-backed proposal will receive 50 votes, rendering it dead on arrival.
Some bipartisan plans are also floating around, including a joint effort from Sens. Dick Durbin (D-Ill.) and Lindsey Graham (R-S.C.) that would codify DACA into law, allocate $2.7 billion for border security and limit family-based migration.
But it's unclear whether that proposal could get the 60 votes needed to advance, let alone pass the Republican-controlled House. The Trump administration has also said that plan is "dead on arrival" — meaning Trump may not sign it even if it passed through Congress.
The Senate has now begun the official debate on immigration. Trump tweeted early Tuesday morning that this debate is the "last chance" to address the fate of DACA recipients.
"Negotiations on DACA have begun," Trump tweeted early Tuesday morning. "Republicans want to make a deal and Democrats say they want to make a deal. Wouldn't it be great if we could finally, after so many years, solve the DACA puzzle. This will be our last chance, there will never be another opportunity! March 5th."