The FBI is poking holes in the White House's account of information on Rob Porter's alleged abuse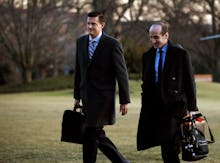 More holes were poked in the White House's account of how long it has known about the domestic abuse allegations against former aide Rob Porter on Tuesday, as FBI Director Christopher Wray gave a timeline of Porter's background check process.
Wray told the Senate Intelligence Committee that the FBI gave the White House a partial report on Porter's background check in March 2017. Wray said the FBI completed Porter's background check in July, and gave the White House follow-up information in November before closing the file in January.
That timeline suggests the White House knew about the domestic abuse allegations against Porter for months, completely contradicting their claim that they only learned about the allegations on Feb. 6, when the Daily Mail first reported them.
The White House's inability to stick to a story, or perhaps tell the truth about the extent of what was known of Porter's alleged behavior, has turned this into a week-long scandal that threatens to diminish President Donald Trump's already poor standing with women.
White House Chief of Staff John Kelly said that he decided to fire Porter 40 minutes after learning the domestic violence allegations were credible, according to the Washington Post. Yet Porter didn't resign until Wednesday, Feb. 7, a day after the Daily Mail's report.
In the initial Daily Mail story reporting the allegations, Kelly heaped praise upon Porter, calling him a "man of true integrity and honor" and saying he was "proud to serve alongside him."
Politico also reported on Tuesday that the White House actually arranged an off-the-record briefing with reporters to allow Porter give his side of the story. White House press secretary Sarah Sanders also stuck to the Trump administration's line that the White House only learned of the allegations against Porter the day the Daily Mail story broke.
Sanders said at Monday's daily press briefing that the White House, "learned of the extent of the situation involving Rob Porter last Tuesday evening, and within 24 hours, his resignation had been accepted and announced."
"We announced a transition was going to happen, and within hours, it did," Sanders said. "The president and the entire administration take domestic violence very seriously and believe all allegations need to be investigated thoroughly."
Meanwhile, Trump has also yet to come out and express concern for victims of domestic abuse. He instead issued a tweet on Saturday seemingly siding with Porter and others accused of sexual impropriety or violence.
"Peoples lives are being shattered and destroyed by a mere allegation," Trump tweeted. "Some are true and some are false. Some are old and some are new. There is no recovery for someone falsely accused — life and career are gone. Is there no such thing any longer as Due Process?"
Aside from the White House's changing story on Porter, the incident has also raised questions about why individuals who have not passed background checks have been allowed to handle sensitive government information.
CNN reported on Friday that dozens of White House officials are working without full security clearances, raising even more questions about information security.