How #MeToo, the Women's March and female empowerment made their presence known at NYFW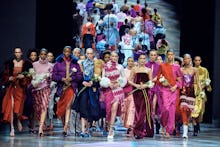 This conversation we're all having now, with #MeToo and sexual harassment in the workplace, has not only seeped into the fashion industry, but New York Fashion Week itself.
For the past few NYFW seasons in particular, current politics and issues have been part of attending NYFW. In February 2017, guests and designers were offered pins in support of Planned Parenthood. In September those turned into pins for the ACLU.
And while the Council of Fashion Designers of America, which organizes NYFW, didn't organize anything as blatantly political as that, designers and organizers alike did their part to bring #MeToo, the Women's March and, really, female empowerment, to this highly-publicized week. Because if NYFW wants to be about celebrating female beauty, then why not bring female humanity into it too.
Ahead of NYFW's official start date, there was Together We Rise x NYFW on Feb. 3, which celebrated the publishing of the official oral history of the Women's March with a night of speeches and the unveiling of a collection of commissioned goods from designers like Brother Vellies, Pyer Moss, Chromat and Brandon Maxwell, with sales from the goods benefiting Planned Parenthood and the Women's March.
For Alysia Reiner, an actress best known for her role on Orange Is the New Black who is also a co-founder of the fashion brand Livari, bringing the march to NYFW, even in a small way, was a reminder of the impact high-profile events like these can have.
"We as people in America need to stand up for ourselves and make our voices known," Reiner said in an interview the day before the event. "That's what tomorrow is about, rising before and caring for each other as women. New York Fashion Week is about celebrating the art of fashion, but now it feels like this celebration is a form of activism."
During New York Fashion Week, a show devoted entirely to the #MeToo movement sprang up. On Friday night, at a show plainly titled the "#MeToo Fashion Show," organizer Myriam Chalek brought the conversation literally onto the runway.
All of the models who walked in the show had experienced sexual misconduct in the workplace, and after walking the runway as if it were any other regular show, the models, who were not professional models, then had about 60 seconds to share their messages of strength.
"I want people to open up and communicate," Chalek said in an interview before the show. "That's the key to change. For so long society has been silencing this sexual harassment. I hope the message we convey is that if something happened to you, stand up and speak up. You're not alone. We can all work together as a unit to make that change."
"New York Fashion Week has so much attention," Chalek continued. "So if you have that platform and you can use it, then why not use it? I feel like that sense of responsibility in using my platform and giving them the opportunity to speak and share their story is what I should be doing."
Among the more high-profile shows, however, this conversation didn't remain as pervasive. We've been keeping a close eye on any designer who may have dared to make a statement on #MeToo or even the Women's March, which had hundreds of thousands of people taking to the streets in January to show their support for women and their rights, but only one show so far has given a proper nod to this moment.
At the Prabal Gurung show, for the finale, the models came out in a crowd with white roses, which were just worn by people at the Grammys in an effort to show support for #MeToo, in their arms.
Other than that show, there hasn't (yet) been any blatant support of the #MeToo movement. There have been no #MeToo pins visible on runways, or worn by designers themselves.
That's especially a shame as all signs show that some major fashion figures are already coming around to photographers Mario Testino and Bruce Weber, who were just accused of sexual exploitation by several models and assistants.
What does that say about NYFW's priorities, we wonder.