What it's like to work in a restaurant on Valentine's Day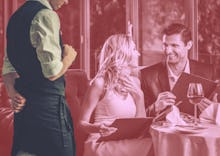 You're either in camp Must Dine Out or Mustn't Ever Dine Out when it comes to dinner on Feb. 14. For some, the public displays of affection, the cheesy decor and upcharged prix fixe aren't the most romantic way to celebrate. Still, Valentine's Day is the second most popular day to go out for a bite — after Mother's Day. According to the National Restaurant Association, some 70 million Americans will venture out on Wednesday to eat in the name of love.
Working at a restaurant on Valentine's Day, however, is "probably what hell looks like," at least according to one woman who worked in the industry for seven years. Servers, bartenders and virtually all restaurant staff dealt the Feb. 14 shift are tasked with making sure their two-tops are feeling the love. And that's not always guaranteed.
On a day packed with pressure to love the one you're with, drama is bound to ensue. Restaurant workers and bartenders get a glimpse into a world that the rest of us might only have the chance to catch watching a romantic comedy or a reality show. Mic spoke with 9 servers, bartenders and restaurant managers about what it's like to work while guests participate in the intimate, annual tradition of putting their love on display while sharing a meal. Their responses, below, have been edited and condensed for clarity.
High expectations over chicken-fried steak
"I was working at a restaurant in Texas that was known for their chicken-fried steaks and fried okra. A man got very upset that we weren't doing anything special for Valentine's Day. He made a big scene about how he was trying to make this day special for his wife — and we had thoroughly disappointed him."
"Meanwhile, we servers were looking at him and thinking, 'Everything we serve here has gravy on it. This is not the place to be romantic.' His wife was completely embarrassed, but they did end up staying. In an effort to make the night 'special,' I added a few strawberries to their brownie dessert."
— Darron Cardosa, author of The Bitchy Waiter
An affair at Applebee's
"I was a new manager at Applebee's, working my first closing solo shift on Valentine's Day. Everything was going smoothly until the hostess sat two women beside a booth where a happy couple was seated. Unfortunately, one of the women was the wife of the male in the happy couple. "
"She noticed her husband was sitting at the booth next to her — and not at work like he had claimed — and proceeded to grab the nearest drink, a strawberry daiquiri, and throw it at her husband. She missed him completely and doused a different group nearby. Then she started screaming at him to come outside, hitting him the entire time."
"Of course, I had to comp the daiquiri she took from one table and the entire foursome that was behind him."
— Kristi Klepacz, former restaurant manager in South Carolina
When in doubt, have the bartender be your exit strategy
"I've definitely seen my fair share of awkward first dates. One time a girl passed me a note with her phone number on it and asked me to call.  We pretended like there was an emergency so she needed to leave very quickly.  If you're ever on a bad date, let us know — we're here to help."
— Kate Nelson, bar manager at State Street Provisions
A Valentine's Day confession
"Valentine's Day is my least favorite day of the year as a server, aside from Mother's Day. Once I was waiting on a table and, suddenly, the guy flipped out and threw his glass of wine at his girlfriend while exclaiming, 'I can't believe you fucked my brother!'"
— A server in Boston, Massachusetts
Burritos and a breakup
"I was working on Valentine's Day when a couple come in to spend some time together over delicious fast casual burritos. They were chatting and then, all of a sudden, I heard her voice rising and taking on an accusatory tone. She then screamed out, 'You have to choose. It's either me or him!' The guy was clearly embarrassed and tried to maintain hushed tones but, it seems, he didn't give her the answer she wanted. She screamed out, started hysterically crying, threw her burrito down and stomped out of the restaurant."
"Dos Toros doesn't endorse breaking up with people at the restaurant, but it happens. Hopefully, she was consoled by her burrito. I would say if you suffer from heartbreak, some hearty carnitas and melted cheese will make you feel better."
— Marcus Byrd, managing marketer at Dos Toros
Leave the grumpy at home
"This will be my first Valentine's Day working at the bar. We're working on a playlist, compiling those super cheesy '80s and '90s love songs that everybody loves. We don't usually play them, but it'll make the day more fun. Everybody knows Valentine's Day is a hokey holiday, but when I was dating and even during my first couple of years of marriage, I'd like to celebrate."
"The holiday does kind of attract a more amateur crowd. But, this is a moment to take advantage of those people that don't usually come in to your bar or restaurant, and turn them into regulars by providing them with an amazing experience. We continually remind our staff that the days of the grumpy bartender are over. Everybody who comes here is coming for some type of hospitality, and everybody deserves the same amount of respect."
"I'm probably going to go buy some red pants at Goodwill. It's a corny, fun holiday and so, if you have to work it, why not just embrace it? Be as hokey as the holiday is — without disrespecting anybody. There's no reason to be grumpy."
— Mike Di Tota, bar director at The Bonnie in Astoria, New York
Tinder to the rescue
"Basic Valentine's Day at the bar is some awkward dates, some solo drunk people looking to hook up. Once I saw two guys come in, order drinks, get on Tinder and not talk to each other. Finally, after about 20 minutes, one looked up from his phone, looked over at his buddy and said, "Got one." He finished his drink and left his friend with the bill. It was very romantic."
— Josh Weinstein, bartender at Whiskey Town in New York City
The ballers versus the cheapskates
"Working Valentine's Day at a restaurant is probably what hell looks like. It's probably the worst day not only for the servers, but for the hostess, cooks, bartenders, bussers and managers. It's crazy busy, there are a lot of people and if you're working, you're guaranteed to break a sweat."
"There's no time in between tables — you're flipping tables one after another. As soon as one set of customers leave, the table will be cleaned and sat with another set before you can even blink. I worked at an upscale restaurant for seven years before I finally threw in the towel. Never again."
"People ask for free bread and butter before you can even introduce yourself. The kitchen food line is loaded with plates ready to be served and servers are way too busy to take them to their tables. There's no ice in the ice bin or lemons in the lemon bowls and you have to stop what you're doing to get what you need — and it's just a whole domino effect after that. Guests start to complain that their food is taking longer than expected when there's about 150 trying to get their meals, too."
"There are two types of customers that come in on Valentine's Day: The big ballers, who dine out every night of the week and have the money to spend, and the people who never really go out and don't have that much money, but want to 'impress' their date. The latter type is usually the worst. They rarely tip. In my experience, I'll have at least two or three tables that don't tip, which means, as the server, you hardly get paid."
— Natasha, a server in Texas
Fancy attire at a mall restaurant
"Valentine's Day is supposed to be all about the romance, dim lighting, candles, conversation, sensuality, etc. The goal of P.F. Changs, however, was to turn 'n burn.  Basically, get the customers in, get them seated, get them fed, get them out as quick as possible, and turn that table over to the next couple.  This was a goal every day, but definitely pushed more on holidays — Valentine's Day in particular. This, usually, would lead to a stand off at the end of a meal; the customers wanting to sit and soak up their dinner and the moment before they go off to part two of their evening, and the waitstaff hovering and checking the check wallets every 30 seconds or so."
"The minefield of tables totally killed the romance. Normally, there's a certain amount of space between tables. But Valentine's Day's seating arrangement is the equivalent to a tenement style housing. With the two top tables being a uniform square shape with only two seats to account for, it was easy to jam them all in row style and get in more couples at a time.  The gaps between tables shrunk considerably to the point of almost touching elbows with the neighbor tables on either side.  The conversations would all bleed into each other and you'd find people borderline yelling across the table to try to be heard. And then there'd be the waitstaff pushing through the tight gaps to deliver the food. Total chaos."
"Tipping was usually a slight uptick, but the scale was an inverse bell curve. Something I learned: The newer or younger a couple was, the bigger the increase on the tip. This gave me the impression that the one paying — usually the guy — felt like he had to show off, and that it would help his odds or something."
"What people wore was one of the biggest differences on Valentine's Day. In a restaurant attached to a mall, the attire was usually jeans and T-shirts or something very casual. V Day had people always putting on the full regalia with their outfit. All out peacock mode."
— Tom, a former waiter at P. F. Chang's in Long Island, New York