Danielle Herrington makes history as the second black model to cover 'Sports Illustrated'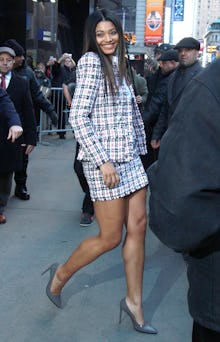 Twenty-one years ago, in 1997, Tyra Banks made history as the first black model to grace the cover of the Sports Illustrated swimsuit issue. In 2018, model Danielle Herrington makes history as only the second black model to grace the issue.
Beyoncé, not a black model by profession, landed on a cover in 2007, so it has not only been 21 whole years without a swimsuit issue with a black model cover star, but 11 years without a black cover star — period.
For the past few years, the Sports Illustrated issue has been trying to reinvent itself. In 2015, it revealed its first plus-size swimsuit model, Robyn Lawley. In 2016, Ashley Graham and UFC fighter Ronda Rousey got covers. In 2017, there was a bit of a digression, with Kate Upton landing on three different covers herself.
This 2018 issue has been set up to be progressive in a number of ways. Women featured inside the magazine include Ashley Graham, Olympic gymnast Aly Raisman and Paralympian Brenna Huckaby. There's one photoshoot that has women posing nude, with descriptors of their choosing written across their bodies.
Now with this cover, which makes history, Sports Illustrated is clearly trying to send some sort of message.
"I dedicate this to all the young girls out there," Herrington wrote on her Instagram. "Work hard, surround yourself with good people who believe in you and your dreams will come true."