Police recommend corruption charges against Israeli Prime Minister Benjamin Netanyahu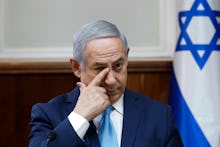 Police are recommending Israeli Prime Minister Benjamin Netanyahu be indicted on corruption charges, according to international media reports Tuesday.
Police reportedly have enough evidence to charge Netanyahu with bribery, fraud and breach of trust in two corruption cases. Attorney General Avichai Mandelblit will now decide whether to prosecute the prime minister, a process that could take months.
In one of the cases, Netanyahu allegedly promised the publisher of Yedioth Ahronoth, a newspaper based in Tel Aviv, Israel, he would help hinder the circulation of rival publication Israel Hayom in exchange for positive press coverage.
Arnon Mozes — Yedioth Ahronoth's publisher — also had charges recommended against him, according to Haaretz.com.
In the other case, the prime minister allegedly received over $100,000 in gifts from Israeli film producer Arnon Milchan and others in exchange for helping Milchan obtain a U.S. visa. After receiving the gifts, Netanyahu also pushed for "Milchan's law," which exempts Israelis living abroad from paying taxes for 10 years after returning to the country.
Police also called for Milchan's indictment on bribery charges.
The announcement concluded a lengthy probe into corruption accusations against the prime minister, who has pushed back against authorities in a way that echoes President Donald Trump's attacks against the federal investigation into his campaign's ties to Russia.
"A great shadow was imposed tonight on [the] police investigations," Netanyahu wrote in Hebrew in a Facebook post Feb. 7.
Before police announced their recommendations, Netanyahu continued to deny wrongdoing in an address to the nation shortly before 9 p.m. Tuesday evening local time, telling Israelis he had no intention of resigning.
"I feel a deep obligation to continue to lead Israel in a way that will ensure our future," he said, according to the New York Times. "You know I do everything with only one thing in mind — the good of the country ... Not for cigars from a friend, not for media coverage, not for anything. Only for the good of the state. Nothing has made me deviate, or will make me deviate, from this sacred mission."
Nevertheless, the recommendation has thrown the future of Netanyahu — who is serving his fourth overall and third consecutive term as prime minister — into question.
Netanyahu has been investigated on several occasions in the past, something he referenced in his address to his citizens.
"Over these years, there have been no less than 15 investigations against me with the goal of bringing me down," he said, as quoted by the Atlantic. "All those efforts, without exception ended with nothing. I know the truth; these will also end without anything."
But as the Atlantic noted, this probe is the "most serious" he's faced.
The U.S. and Israel have long been close allies, but Trump and Netanyahu seem to have a particularly close relationship. Trump had been critical of former President Barack Obama's stance toward Israel and, in late 2016, urged the country to "stay strong" because his inauguration was "fast approaching."
In a controversial move, Trump announced in December that the U.S. would move its embassy from Tel Aviv to Jerusalem, officially recognizing that city as Israel's capital. Though world leaders broadly rejected the decision, Netanyahu thanked his American counterpart.
"The Jewish people and the Jewish state will be forever grateful," Netanyahu said at the time.
Netanyahu also praised Trump following a meeting at the World Economic Forum in Davos, Switzerland, in January — a year after the president began his term in office.
"President Trump, as you finish your first year in office, I want to say that I look forward to continuing our remarkable, tremendous friendship in the years ahead, and I want to express the appreciation of the people of Israel to you," Netanyahu tweeted.
But the two leaders don't just share similar views on peace in the Middle East. Both have been attempting to discredit investigations that pose significant threats to their offices and that could result in heavy legal consequences.
Trump has long dismissed the federal probe into his presidential campaign's possible collusion with the Kremlin during the 2016 election, as well as alleged obstruction of justice on his part, as a "witch hunt."
Trump and his allies have escalated their attacks on special counsel Robert Mueller in recent weeks, suggesting Mueller is leading a politically motivated campaign to delegitimize his presidency.
But that investigation has already produced results, securing guilty pleas from former campaign aide George Papadopoulos and former national security adviser Michael Flynn. Former Trump campaign chairman Paul Manafort and his associate, Rick Gates, were both indicted in October.
Now Mueller is reportedly preparing to request an interview with Trump himself — which could pose significant risk for the president, who is not known for his fidelity to the truth.
There are more than a few parallels between the investigation into Trump and the one that led police to recommend the Netanyahu's indictment.
As the Times editorial board noted Sunday, Netanyahu has launched Trump-like attacks on his investigators, who have warned that doing so could "weaken the public trust in the rule of law" — echoing the concerns surrounding the president's attacks on the FBI and Department of Justice.
"There is no defense for self-serving efforts to undermine the institutions and rule of law he's sworn to uphold," the Times wrote.
Like Trump, Netanyahu has also demonstrated a remarkable ability to weather political storms.
It's not clear yet if he will be forced to resign. According to the Times, the Israeli Supreme Court requires government ministers and deputy ministers to resign if they are indicted, but it's not clear whether the rule applies to the prime minister.
Ehud Olmert, Netanyahu's predecessor, resigned in 2008 after corruption charges were recommended against him. He was later convicted and served 16 months in prison, but he was not formally charged until he stepped down.
If charged, Netanyahu would be Israel's first prime minister to be indicted while in office.