Democrats pick up state House seat in Florida in another sign of Democratic wave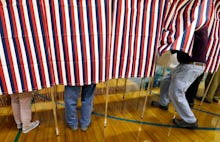 Democrats on Tuesday night picked up a historically Republican state House seat in Florida, adding to the growing evidence that the 2018 midterms could be a bloodbath for the GOP.
Democrat Margaret Good defeated Republican James Buchanan — the son of current Florida Republican Rep. Vern Buchanan — in the Sarasota-based seat that President Donald Trump carried by a 5-point margin in 2016.
Good beat Buchanan 52% to 45%, vastly improving on Democrats' 2016 performance and making it the 36th state legislative seat Democrats have flipped since Trump's victory, according to Daily Kos.
In recent weeks, Republicans have said their midterm chances were improving as Trump's approval rating rose and the generic congressional ballot tightened. However, Tuesday's results in this Florida state legislative seat should once again cause Republicans concern.
The district has a heavy Republican advantage, with around 13,000 more registered GOP voters than Democratic ones. It's also suburban and more than 90% white, according to Ballotpedia, making it fertile ground for Republican candidates.
The GOP nominee also had the advantage of name recognition, given that his father — with whom he shares a last name — has represented the state House seat in Congress since 2007.
Still, Democrats were able to pull off a win in the seat, with some Florida elections experts saying that the results suggest a good number of GOP voters ditched their party to vote for the Democratic nominee.
"The voting-method results point to cross-over votes from Republicans," Matthew Isbell, a Florida campaign strategist, said in an analysis piece on the results. "Good only lost election day by around 100 votes, yet Republicans outpaced Democrats by 16 points on election day. Its ... likely GOP women were the source of these defections."
The Democratic Congressional Campaign Committee celebrated Good's win, saying the victory is a sign of trouble for Vern Buchanan in the upcoming November midterms.
"While this big Democratic victory should put the elder Buchanan on notice, he cannot undo his steadfast support for the House Republican agenda that puts the very rich and biggest corporations first, and middle class Sarasotans last," Democratic Congressional Campaign Committee spokesperson Cole Leiter said in a statement.