How progressives are building an army of trained activists in swing states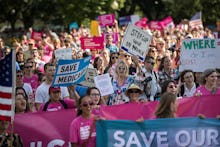 Welcome to Mic's daily read on Donald Trump's America. Want to receive this as a daily email in your inbox? Subscribe here.
Wednesday's dispatch: Training an activist army
Alexis Dowding describes herself as "pretty new to caring." She spent much of her life disengaged from politics or activism, unwilling to engage in debates about what led to the slow decay of her hometown. Dowding, a married telecommunications engineer living in Columbus, Ohio, spent years living three hours away from the decline of her childhood home on the Ohio River.
Dowding's perspective changed when she returned home in 2013 to East Liverpool, Ohio, to help support her 72-year-old mother. And her engagement grew after Donald Trump was elected president. The 43-year-old says watching former workers in East Liverpool's now shuttered pottery factories support Trump, a leader who promises to bring back their jobs, helped drive her to activism.
"If you watched Trump's State of the Union, he told story after story about Americans who have overcome tragedies, who were heroes or faced an obstacle and came out on the other side. ... It reminded me I have to think about how we're communicating," Dowding said in an interview. "To talk to people, to give them something that they can feel and hold onto and pass on, you need a story. You need the power of stories."
In January, Dowding was one of 20 budding activists who spent a weekend in January in Columbus learning how to use the power of storytelling, coupled with digital tools and organizing skills, to fuel the self-styled "resistance" movement across the United States. The training was the second of Project Fierce Urgency, a two-day workshop sponsored by Credo Action that aims to train dozens of activists in swing states during 2018.
Political director Murshed Zaheed describes Fierce Urgency as the manifestation of Credo's goal to innovate outside traditional models of electoral change. The group is mostly known for the petitions it sends to its 5 million member progressive email list. Zaheed says Credo could have invested in hiring organizers in key states or buying TV ads, but decided to pursue a new option — training local activists in their backyards.
"We are essentially creating a permanent structure of progressive activism and a model of resistance where folks have access to the best ... in digital organizing," Zaheed said.
Progressives have long viewed training as core to achieving their goals. Wellstone, a political training academy, has held paid training sessions across the country for more than a decade. Annie Weinberg, electoral director of Democracy for America, said in an interview her progressive organizing machine trained more than 25,000 people through online sessions focused on grassroots organizing and massive "campaign academies" in the 2016 election cycle.
Kaili Lambe, organizing director at Credo, says Fierce Urgency is distinguished by how it's tailored to fit the moment. The first two trainings in Colorado and Ohio were intentionally capped at 25 participants. They are free and intentionally located in swing states with access to activists, like leaders of Indivisible groups or local nonprofits. The two-day training offers great detail on how to build an audience, Lambe said, including guidance on creating engaging content online and distributing it effectively. And attendees of the trainings are then connected via Slack, a messaging app, to coordinate statewide political action — with the support of Credo organizers in their state.
"We're seeing all these newly minted activists," Lambe said. "Folks who might be paying some attention to politics. ... They are burning out. They've been doing this work for a year now or longer. They want to know how they can have the biggest impacts with the least amount of time commitment."
Credo says it is investing six figures in the program in 2018, with another training planned in Nevada in April and Nebraska in May. Kristen Hirsch, a stay-at-home mom and activist living south of Denver, said the weekend she spent at a Fierce Urgency training in November has already paid off.
At the training, she learned that meeting with the staff of an elected official is far less effective than building pressure that demands that official's attention. Organizing like-minded groups, staying connected via Slack, using best practices for livestreaming on Facebook or Periscope and circulating petitions among locals all contributes to a movement and have greater staying power, Hirsch said.
"That amplification is what's going to help us move the needle," she said. "That unifying voice, that's exactly what we've gotten from Project Fierce Urgency."
Today's question: Are we experiencing a movement or a moment?
Please email us at trumpsamerica@mic.com with your thoughts.
Wednesday in Trump's America:
Immigration: Another federal judge blocked Trump's decision to let the Deferred Action for Childhood Arrivals program expire on March 5. Trump had given that date as a deadline for the program to sunset.
DACA's future remains unclear as Senate Majority Leader Mitch McConnell (R-Ky.) said Tuesday senators have only one week to hammer out a compromise that could pass the GOP Congress and protect DACA recipients. McConnell also backed a Trump-approved immigration plan that will not draw the necessary Democratic support in the Senate. If the Senate fails to produce a deal, which looks likely, Trump and Republicans are ready to heap blame on Democrats and move on with no DACA fix.
To show public support for immigrants as lawmakers debate, Fwd.Us launched #ToImmigrantsWithLove on Wednesday to spur writing of digital letters and photo sharing nationwide to support immigrants.
White House scandal: Testifying before the Senate Intelligence Committee on Tuesday, FBI Director Christopher Wray said his agency completed its investigation into Rob Porter in July, and closed it officially weeks before allegations against the former White House aide became public. That contradicts White House accounts that the FBI was continuing to investigate Porter, who is accused by his ex-wives of domestic abuse, forcing top government officials to wait to determine Porter's fate.
The Washington Post reported chief of staff John Kelly has lost credibility in the White House because of his handling of Porter, and Trump is actively looking for a replacement.
Judges: A total of 92% of Trump's nominees to be federal judges are white, USA Today found.
It's the economy, stupid: Priorities USA, considered the largest Democratic super PAC, released new polling Tuesday that says liberals must focus on the economy and kitchen-table issues — not bashing Trump — to win big in 2018.
A new survey shows Democrats and Republicans running even in the race for the House. Republicans are showing greater enthusiasm and Trump's popularity has risen from record lows.
Stormy situation: Trump attorney Michael Cohen said he paid $130,000 out of his own pocket to porn performer Stormy Daniels shortly before the election to stop her from going public about an alleged past relationship with the president. Cohen said Trump had no involvement in the legal, noncampaign-related transaction.
Statehouse swing: Democrats logged a major upset in a state House race in Florida Tuesday night. Trump carried the district by 4.6 percentage points in 2016. Turnout surged and the Democrat won by 7.4 points. It is the third bellwether Florida special election in a row Democrats have won.
Food stamps: The White House wants to create a "Blue Apron-type program" with home delivery of meals while slashing food stamps. But Mic's Susie Poppick explains how that change could lead to less nutritious, lower quality meals for food stamp recipients.
Israel: Police have recommended corruption charges against Israeli Prime Minister Benjamin Netanyahu.
Important story: Meth is back — and its cheaper, more plentiful and more lethal than ever before, the New York Times reported.
Today's MicBite:
In an exclusive video op-ed for Mic, Sarah McBride, the first out trans person to give a speech at the DNC, explains how the Trump administration's latest action on bathrooms will hurt trans youth.
Correction: Feb. 14, 2018