These are the Oscar "firsts" that we're still waiting for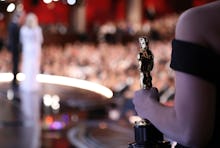 Every Academy Awards season seems to bring a new crop of Oscar "firsts," even in relatively recent years. In 2017, Mahershala Ali became the first Muslim actor in history to ever win in any of the acting categories.
In 2010, Kathryn Bigelow became the first woman to win for best director, and that same year Geoffrey Fletcher became the first black screenwriter to win an Academy Award when he won for best adapted screenplay. In 2006, Ang Lee became the first asian filmmaker to win best director and, in 2002, Halle Berry became the first black woman to win best actress.
This year's Oscars, which will take place Sunday, March 4, offer opportunities for brand new firsts: If Jordan Peele, nominated for best director for helming Get Out, earns the award, he would be the first black director in history to win in that category. Dee Rees, already the first black woman to be nominated for best adapted screenplay, could make history again if she wins.
But even with some new Oscar firsts within grasp, there are many more that still need to happen. Once those milestones actually become a reality, they'll represent another bit of progress for people who rarely see themselves reflected onscreen, and even less so during the annual Oscars telecast. Here are just a few of the "firsts" that we're still waiting for.
A transgender actor winning in any acting category
Past Oscars seasons have rewarded cisgender actors who played trans characters onscreen. Hilary Swank won the Academy Award for best actress in 2000 for playing real-life trans man Brandon Teena in Boys Don't Cry, and in 2005 Felicity Huffman was nominated for best actress for playing a trans woman in the film Transamerica.
Jared Leto won the best supporting actor Oscar in 2014, for his role as a trans woman in Dallas Buyers Club. And in 2016, Eddie Redmayne was nominated for best actor for portraying another real-life trans person, painter Lili Elbe.
While cis actors have received accolades for playing trans characters, trans actors themselves have been overlooked. In 2016, Tangerine, Sean Baker's critically acclaimed film about trans women of color in Los Angeles, starring trans actors Mya Taylor and Kitana Kiki Rodriguez, got no nominations — despite the fact that the film's distributor's mounted a best supporting actress campaign for Taylor, according to Entertainment Weekly. This year, Chilean director Sebastian Lelio's drama A Fantastic Woman was nominated for best foreign language film, but, despite some speculation that she could make history, the film's trans star, Daniela Vega, didn't get an acting nomination.
For trans actors to win in acting categories, they would first have to be getting parts in the kinds of films that dominate awards season — an industry-wide change that advocates have long been calling for.
A black filmmaker winning for best director
Jordan Peele may have scored a best director nomination for his social-thriller Get Out, but he's hardly a shoe-in, which means the Oscars could very well go another year without ever giving a black director the best director award. Peele is the fifth black director to ever be nominated — past nominees include John Singleton for Boyz n the Hood, Lee Daniels for Precious, Steve McQueen for 12 Years a Slave and Barry Jenkins for Moonlight, the latter two of whom saw their films win the best picture Oscar. Notably, no black women have ever been nominated.
The lack of representation — across this and all categories — has been highlighted by the #OscarsSoWhite movement, started by attorney April Reign in 2015 to call attention to the lack of diversity among that year's nominees. But the overwhelming whiteness of directors isn't just an Oscars problem, it's an industry-wide issue. Research published by the USC Annenberg School for Communication and Journalism in 2017 examined representation among the directors of the 1,000 top-grossing films released between 2007 and 2016 and found that only 5.1% — or just 27 — of those directors were black.
Stacy Smith, one of the researchers who analyzed the data, said at the time that the research indicated that "directing is predominantly an occupation held by white males ... When the lens is this skewed, it offers a tilted view of society to audiences — one that lacks the perspective of women and people of color."
A woman of color winning for best director
Women are already severely underrepresented in the best director category — this year's nominees include Greta Gerwig, who is only the fifth woman to ever be nominated. Only one of those women — Kathryn Bigelow, director of The Hurt Locker — has ever won the best director Oscar. But women directors of color have been completely overlooked in the category — all five of the nominated women directors have been white.
Several women directors of color have been passed over at the Oscars in recent years. In 2015, Ava DuVernay failed to earn a best director nomination for her film Selma, despite the fact that the film was nominated for best picture. This year, Dee Rees, who directed Mudbound, earned a best adapted screenplay nomination but wasn't nominated in the best director category.
Again, the issue is on display at the Oscars but exists in Hollywood more generally. That same 2017 USC study that examined the 1,000 top-grossing films also found that only three were directed by black women, three were directed by Asian women and only won was directed by a Latina woman, Deadline reported at the time.
A Latina woman winning best actress
In the entire history of the category, no Latina woman has won the Oscar for best actress, and only a handful of women have come close. The first Latina woman to be nominated in the best actress category was Fernanda Montenegro, who was recognized in 1999 for her role in Central Station, a Brazilian-French film that also earned a nomination for best foreign language film.
Only two more Latina women have earned nominations in the category since: Salma Hayek for Frida, in 2003, and Catalina Sandino Moreno for Maria Full of Grace, in 2005. The lack of representation is even more alarming considering that, as the New York Times reported in January, Latinos make up 23% of "frequent moviegoers," or viewers who go to the movies at least once a month. Despite that, a separate 2017 study out of USC found that just 3.1% of speaking characters in 900 films over the past 10 years were Latino.
In a January op-ed in Variety, actress Gina Rodriguez called for better representation of Latinos in Hollywood, saying, "It's important we celebrate, employ and represent all Latinos from European to Afro-Latinos, because it is our responsibility as an industry to give this entire generation positive representation so that no one feels invisible."
An end to gender-segregated actor and actress categories
Another Oscar first that would be, to many, a welcome change? The first year that the Academy does away with actor and actress categories separated by gender. It may be some time before we see this happen, but it's a suggestion that's been made before, for a host of reasons. For one, getting rid of the gendered categories would serve to make the Academy Awards more inclusive to gender-fluid or non-binary actors — who wouldn't be forced to choose a gendered category in which to submit.
And while some have suggested that eliminating gendered categories might mean women could regularly get shut out of acting categories — as with the best director category — Nylon argued in 2016 that, if that were the outcome, it would only serve to better "reveal something of the problem-filled depths" beneath's Hollywood's surface. And the Oscars wouldn't be the first awards show to get rid of gendered acting categories — the MTV movie awards did away with them in 2017, pitting Daniel Kaluuya and Emma Watson against each other, along with others, in a general "best actor in a movie" category.
So what acting categories could replace the ones currently in place at the Oscars? A larger, more inclusive "best actor" category could work — so could dividing acting categories by genre rather than gender, as W Magazine suggested in 2017.
On the Feb. 9 episode of the NPR entertainment roundtable podcast Pop Culture Happy Hour, panelist Stephen Thompson (somewhat jokingly) suggested dividing the Oscars categories into "best original performance" for actors portraying fictional characters, and "best adapted performance," for actors playing historical figures and other real-life people. But no matter how it happens, if — or when — the Oscars finally decide to do-away with gendered acting categories it would mark another historic, and important, Oscars first.