This GoFundMe fundraiser hopes to give free screenings of 'A Wrinkle in Time' to young black girls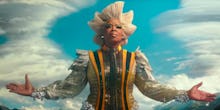 There's been a lot of talk already about the staggering impact of the upcoming Marvel movie Black Panther — on fashion, on the historically white male-dominated genre of superhero films and more. But there's another ambitious film featuring a black protagonist that a group of organizers wants to make sure gets its due, too: Ava DuVernay's A Wrinkle in Time, based on Madeleine L'Engle's 1962 novel of the same name.
To that end, a group of black women calling themselves the "Sisters in the Storm" have started a GoFundMe fundraiser aiming to raise $25,000 to buy tickets for young black girls and non-boys to see A Wrinkle in Time in theaters all across the country. Sherronda J. Brown, one of the fundraiser's organizers, said she was inspired to center an event on the fantasy sci-fi epic once she realized that DuVernay's adaptation would depict its main character, Meg Murry — an awkward math whiz — as a black girl.
"Once I learned about what the story was and I realized that [DuVernay] had a black girl at the center of the story, I realized exactly how important it was and how important it would be for black girls and other non-boys to see that," Brown said in a phone interview. "Because it's something I never saw when I was a kid. I can't think of a single story of this magnitude that has a black girl at the center of it from my childhood — or my adulthood ... I want people to recognize exactly how big this moment is."
Brown and the other Sisters of the Storm — like Leslie Mac, an activist who created the Safety Pin Box subscription service and the Ferguson Response Network — hope these screenings of A Wrinkle in Time will give young black girls the examples of representation they sorely lack.
"When you don't see yourself reflected in [movies], you start to wonder — especially as a child when you're developing an identity — does that mean my experiences don't matter?" Mac said in a phone interview. "Does that mean that I don't matter? So, this movie is a unique opportunity for black girls to see themselves centered in the story, to see their story being told — and that's really exciting."
Jasmine Whittaker, a Sister who has two young kids, said she's seen the effect of this kind of representation firsthand.
"There's a little girl with curly hair [in the 2015 animated film Home] and the first thing my son told me was, 'Oh look mom, they have hair like mine.'" Whittaker said in a phone interview. "He had never seen that before. ... I don't think people realize how often little black girls and little black boys don't see themselves anywhere. So, being able to bring in girls from all over the country to see A Wrinkle in Time — they don't even know the magnitude of that yet, but they'll be able to relish in someone that looks like them."
In an article Brown posted to Medium to accompany the fundraiser, she emphasized that the event was dedicated to Stormiyah Denson-Jackson, a 12-year-old black girl who died by suicide at her boarding school in Washington, D.C. in January. According to local reports, she was often the target of bullying.
A Wrinkle in Time will hit theaters March 9.